When:
April 27, 2018 @ 3:30 pm – 6:00 pm
2018-04-27T15:30:00-04:00
2018-04-27T18:00:00-04:00
Where:
283B Winters College

A Symposium with Dr. Zimitri Erasmus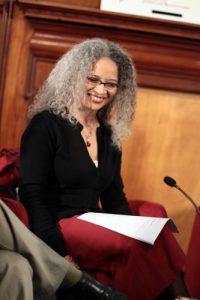 Dr. Zimitri Erasmus is an Associate Professor of Sociology at the University of the Witwatersrand (WITS), Johannesburg, South Africa. After completing her PhD at the University of Nijmegen, The Netherlands, she taught at the University of Cape Town here she became a Distinguished Teacher. Her scholarly work on creolization and anti-racisms as decolonizing praxis informs her published critique of continued use of apartheid race categories and of racialized biomedicine and recreational genetics. Her most recent book 'Race Otherwise, Forging a New Humanism for South Africa' is published by WITS University Press, 2017.
Discussants:
Jan Anderson, Warren Crichlow, Nombuso Dlamini, Mohamed Duale, Pablo Idahosa, Marion Loughheed, Aparna Mishra Tarc, Ola Mohammed, Sam Tecle, Kayleigh Thompson (York University)
Rinaldo Walcott (OISE/University of Toronto)
Mark Campbell (Ryerson University)
Remi Warner (Human Rights Ontario)
Please RSVP to mthomas@edu.yorku.ca
Start time for the symposium is subject to change