Welcome Education Alumni!
Take full advantage of your Alumni Privileges.
Events
Feb
24
Mon
Professional Learning: Religious Education - Teaching In Catholic Schools
This course is intended to introduce pre-service Teacher Candidates to professional practice and to extend knowledge and skills in the delivery of Ontario Catholic curriculum. The course is 36 hours in length fully online. This course starts on February 24, 2020 and ends on April 3, 2020.
For more details about this certificate, please visit:our Certificates page.
Feb
27
Thu
The Queerly Magical Child

@ 3072 Victor Phillip Dahdaleh Building, York University
Feb 27 @ 3:00 pm – 5:00 pm
Featuring Dr. Rebekah Sheldon (Indiana University Bloomington)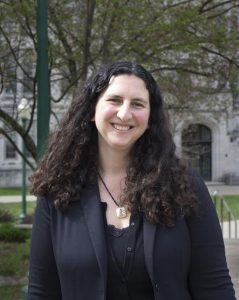 In their field-making introduction to Curiouser: On the Queerness of Children, Steven Bruhm and Natasha Hurley argue that ideas about childhood innocence not only regulate children toward heternomative outcomes but also enable the queerness of children. "The figure of the child is not anti-queer at all," they write. "Its queerness inheres instead in innocence run amok." Bruhm and Hurley read across canonical British and American novels to discover the figure of the queer child that grows laterally around that innocence. Continuing their line of inquiry, this project turns to the genre of young adult science fiction and fantasy. These genres have long forged an association between childhood and wonder, but rarely has the ostensible "magic" of childhood been approached theoretically. In this presentation, I read the magical child as a queering of rationality through the trope of epistemological innocence.
Rebekah Sheldon is Associate Professor of English at Indiana University Bloomington, where she teaches queer theory, childhood studies, and science fiction and fantasy studies. She is the author of The Child to Come: Life After the Human Catastrophe (U Minnesota 2016).
Everyone is welcome to attend.
Please RSVP by Monday, February 24, 2020 to disruptingchildhoods@gmail.com.
May
2
Sat
2-DAY TRAIN-THE-TEACHER EVENT: Facilitating Learning about Poverty and Education: An Equity Literacy Workshop for Equity Trainers and Facilitators

@ York University
May 2 @ 9:30 am – May 3 @ 4:30 pm
with Dr. Paul Gorski (Founder of the Equity Literacy Institute and edchange.org)
Building on topics covered in the previous workshop, Dr. Paul Gorski and participants will explore strategies for engaging educators in deep and justice-oriented learning about poverty, education, and economic justice. Whether you want to facilitate formal workshops, more effectively engage colleagues in informal conversations about these issues, or incorporate deeper learning about these issues into your teaching, this workshop will help you develop a framework and strategies
for doing so effectively. How do we bridge somebody from a deficit view to a more structural or equity view? How might we sequence a learning experience to move people toward deeper awareness? How do we sustain the integrity of our approach in the face of resistance? We will explore these and other questions as we prepare to deepen our own and others' commitments to educational justice.
Cost: $300 (plus HST)
This event will be limited to 35 participants.
Register at https://pd.edu.yorku.ca/#/reg/course/12893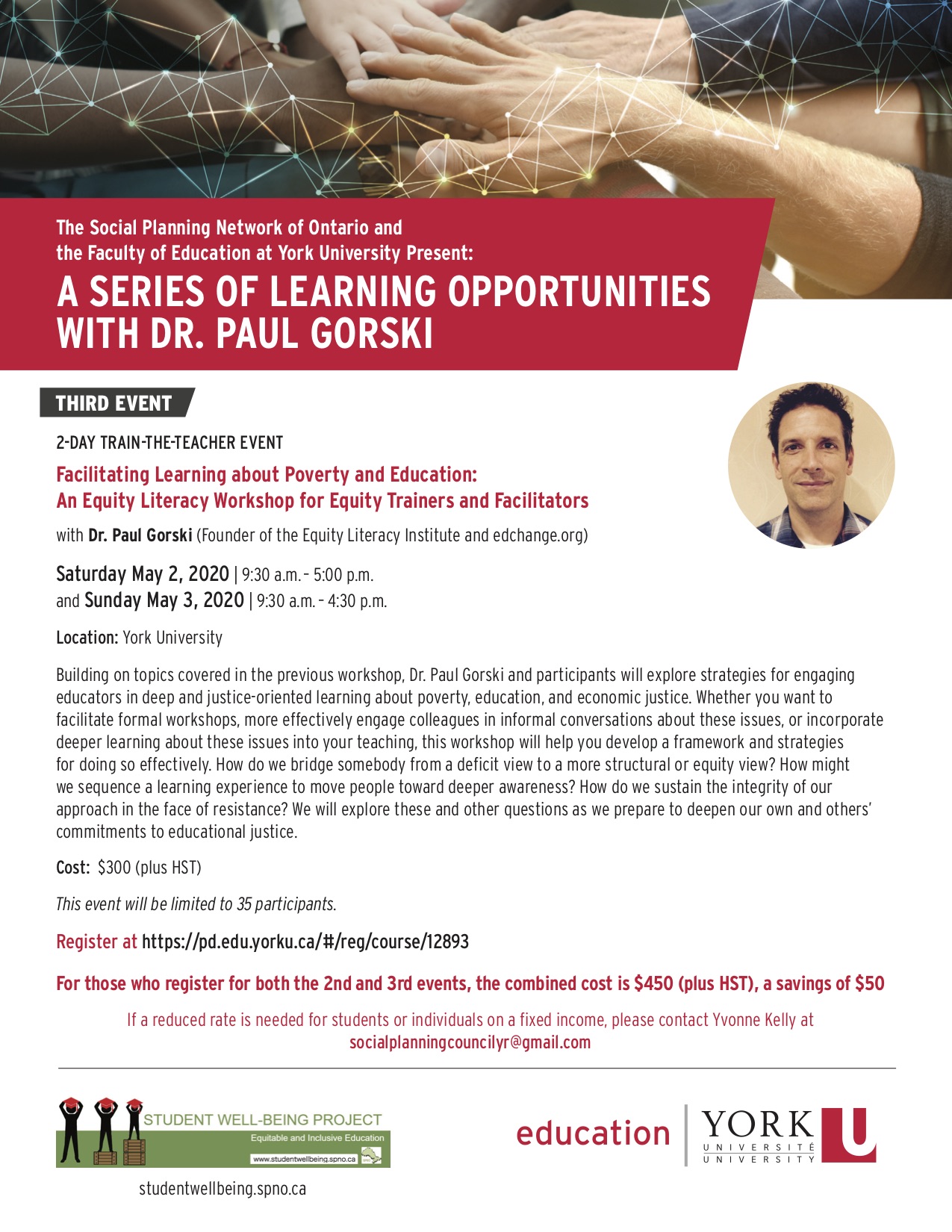 See all events