---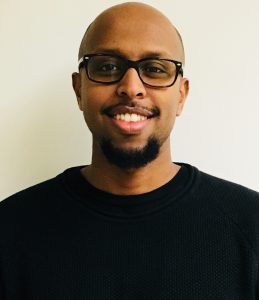 Congratulations to Mohamed Duale, a PhD candidate at Faculty of Education, on being awarded the African and African Diaspora Studies (AADS) Dissertation Fellowship at Boston College for 2020-21. As one of the most competitive fellowships in the social sciences and humanities in the United States, the fellowship with a $30,000 stipend recognizes students who pursue innovative and interdisciplinary projects within the field of African and African Diaspora Studies.
Duale's doctoral research examines Somali refugee youth in the Dadaab refugee camps of north-east Kenya and their experiences of displacement and aspirations to return home. Established in 1992 to host Somalis fleeing civil war, the Dadaab camps currently host 217, 511 registered refugees.
"After nearly 30 years of war and displacement, my research project seeks to document not only 'what is' in terms of refugee adolescence in Dadaab, but also how displaced young Somalis are imagining 'what might be' in the aftermath of civil war."
Duale himself was born in Mogadishu, Somalia, in its cosmopolitan heyday in the 1980s and fled the civil war in the early 1990s. "I subsequently lived as a refugee in Kenya before immigrating with my family to Canada. I grew up listening to the BBC Somali Service with my family. Social and political developments in Somalia and East Africa loomed large at the dinner table. A memorable moment was listening to radio reports from the Arte Peace Conference in Djibouti 20 years ago and seeing the look of hope in my mother's eyes of returning to a homeland that she thought she might never see again," he said.
Duale's desire to figure out solutions to the complex problems that were plaguing his homeland led him to pursue a degree in Political Science at the Bachelor's and Master's levels at York University with a focus on peace and conflict in Africa and Middle East. Later, he saw himself playing a role in education and trained as a teacher. For his PhD in education, Duale decided to focus on exiled youth in East Africa.
"Studying at York's Faculty of Education, I was encouraged to critically examine the meaning of education, culture and identity in a post-modern and global world," he said. During his doctoral studies, Duale also served as a Teaching Assistant and Course Director in the Borderless Higher Education for Refugees (BHER) project and taught students in the Dadaab camps.
"It is while working with students in Dadaab that I noticed a desire among Somali youth, who either grew up or were born in the camps, to return to Somalia. At the heart of my doctoral research is an attempt to figure out why Somali youth, who have been long displaced in the Dadaab camps, aspire to 'return' to a country that they barely remember or have not seen, and which is still reeling from decades of conflict."
BHER has given Duale invaluable opportunities to immerse himself in the field through on-site research and teaching in Dadaab, which facilitated his development as an engaged migration scholar and helped him to stand out as a scholar-practitioner.
With his academic pursuit at the intersection of African and refugee studies, Duale seeks to contribute to the AADS community at Boston College. He will deliver a public lecture and will have the option of teaching a small upper-level seminar on forced migration and youth in Africa. "The fellowship will afford me the opportunity to focus on my dissertation writing and professional development," says Duale. "I am deeply honoured to have received it."
"Boston College made a very wise choice in its decision to offer the Africa and African Diaspora Studies Dissertation Fellowship to Mohamed Duale." said Professor Don Dippo, Duale's doctoral supervisor. "Mohamed's scholarship and teaching in forced migration and youth studies will add an important dimension to the AADS program at Boston College."
Upon completing his fellowship, Duale's plans involve keeping track of the life trajectories of his research participants, whether they return to Somalia, remain in the camps, or migrate elsewhere. "I hope to pursue a career as an academic and dedicate my life to researching and teaching others about displaced and war-affected youth, and their needs and aspirations."