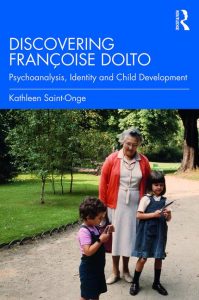 Alumnus, Kathleen Saint-Onge, first heard about French pediatrician and psychoanalyst, Françoise Dolto, when attending a 2012 Toronto conference about Dolto's breakthroughs in the fields of linguistics, psychoanalysis, and early childhood development. Then began Saint-Onge's ongoing passion for Dolto's ideas and life history, as Dolto became her doctoral research subject. From this study, Saint-Onge was inspired to write Dolto's psychobiography, Discovering Françoise Dolto: Psychoanalysis, Identity and Child Development. Though Dolto is well-known in France, she is relatively unheard of in English-speaking circles. Saint-Onge's goal, when writing her book, was to make more accessible Dolto's work and thought for an English-speaking audience.
"Dolto's corpus is unlike any other in history because it combines five decades of records of psychoanalytic treatments (1938 to 1988) with a bonanza of personal materials from her life, covering most of the 20th century (1908 to 1988)," says Saint-Onge.
After discovering Dolto herself, and exploring what she had to offer, Saint-Onge felt it was crucial to enable a greater awareness of the French psychoanalyst. When Saint-Onge began her doctoral dissertation on Dolto, which would later become a book, she was in search of answers to the age-old linguistic question, "What is a word?" Dolto seemed to offer new inroads, while being engaging and witty, and exuding brilliance at the same time.
"When I began reading her books, I was immediately drawn by her style because Dolto freely mixes personal anecdotes, humour, clinical notes, and theorization in a seamless blend of play and genius," says Saint-Onge.
Concerning theorization, Dolto makes many contributions to our understanding of the work of language and its relation to thinking, but Saint-Onge is hesitant to call them theories, since she sees Dolto as someone genuinely self-effacing, who was reluctant to promote fixed formulations. Instead, Saint-Onge describes Dolto's theorization as a series of "astute observations and remarkably deft reflections." But if Saint-Onge had to define the underlying theme of all of Dolto's life project, it would be this: "The infant may be unconscious, but s/he is alive—and while the infant cannot speak yet, s/he can nonetheless hear."
Saint-Onge believes that this fact about human development has remarkable implications in the fields of education (especially early childhood education), linguistics, and psychology. Some of Dolto's most prominent observations concern the theorization of "the transference." "The transference" begins in infancy, when people begin to unconsciously register their linguistic landscape through their sense of hearing. This registration of language takes place in a type of passive dream-like state, recalling Freud's explorations of dream-work, which Dolto's work helps to elaborate. As audition develops precociously, infants start to take in the phonemes (distinct units of sound in any given language) of their mother tongue, then unconsciously invest "affect" or "emotional symbolic significance" in words as they are learned.
In other words, "humanization" is scaffolded on unconscious emotional associations tied to words in the mother tongue—and there is no discernable pattern to this phenomenon, nor are people generally consciously aware of the emotional symbolic significance attached to various words. The entire process of "the transference" is inherently unpredictable, as well as enduring. In other words, modifications to the psychical landscape are not confined to infancy. This is why Dolto considers humanization to be "a continuous lifelong project."
Dolto's theorization fosters compassion for the individual, creating a potential foundation for educational efforts and psychological care tailored to meet the distinctive needs of each person involved. Dolto's observations imply that every person, at each stage of their development, even immediately after birth, is a powerful human being whose thinking is inscribed by a rich and idiosyncratic multitude of emotionally charged word associations.
She believes the same is true for autistic and psychogenically mute people. Dolto's therapeutic approaches have been shown to successfully improve the conditions of children who are mute or autistic, as well as traumatized children. Dolto's interventions have also reduced the severe symptoms of psychical suffering, such as the inability to think or talk, and have helped her patients recover the ability "to take charge of themselves."
"Dolto is a sincerely likeable person—humble, warm, funny, and unpretentious," says Saint-Onge. "I find her capacity to work in such original ways with profoundly traumatized patients, her willingness to take seriously the suffering of even the youngest child, and her optimism for psychical recovery to be inspiring and beautiful. Dolto believes that a layer—a capacity for health, if I can put it that way—exists beneath even the most profound psychical damage, and that it can be reached and tapped through a careful anamnesis and analysis to enable recovery. I think anyone who has lived through severe trauma, especially in childhood, will value meeting her and feel comforted by that encounter."
Discovering Françoise Dolto is an expanded version of Saint-Onge's doctoral dissertation, which was supervised by Deborah Britzman, York University's Research Chair in Pedagogy and Psycho-Social Transformation, Distinguished Research Professor, and a Fellow of the Royal Society of Canada. Six chapters grew to ten and the introduction was rewritten to appeal to a wider audience.
Discovering Françoise Dolto is not Saint-Onge's first book. Her previous book, Bilingual Being: My Life as a Hyphen, is a reworking of the Major Research Paper for her Master's degree, which was supervised by Professor Heather Lotherington, Associate Dean, Research in the Faculty of Education. Lotherington suggested SaintOnge submit the MRP for publication, believing that it was an authentically Canadian language memoir. Bilingual Being was published by McGill Queen's University Press, where Saint-Onge developed publishing contacts, being a previous graduate of McGill.
In addition to being a published author, Saint-Onge is also currently a full-time elementary French Immersion and Special Education teacher for the Peel District School Board.
Both books are available from popular booksellers, such as Amazon. Discovering Françoise Dolto can be purchased here. More information on Bilingual Being and the option to buy it can be found here.