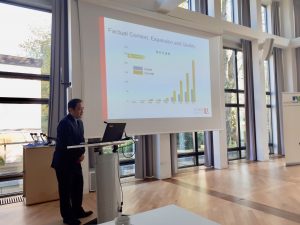 This past spring, Professor Qiang Zha was given the honour of presenting a speech on an emerging Chinese "model" of university education at the University of Bonn in Bonn, Germany. The presentation was part of a lecture series called "The Global Diversity of Universities in the 21st Century" and was organized by the Forum Internationale Wissenschaft, with sponsorship from the German Academic Exchange Service or Deutscher Akademischer Austauschdienst (DAAD).
According to Zha, there's been increased interest in the structural reform of universities in China throughout the 2000s. Now almost 38 million Chinese post-secondary students have enrolled in Chinese universities and colleges, a number which rivals the entire Canadian population. The significant enrollment statistics have drawn attention to a university model of China and the potential to replicate it elsewhere, most notably in European countries, where the ties to China are becoming strong.
While Professor Zha was in Germany, he met Dr. Dorothea Rüland, the Secretary-General of DAAD. Since Germany and China now have a close relationship, Rüland was especially interested in the knowledge Zha was providing. Rüland, as a leading figure in Germany's largest support organization for German education, turned to Zha for perspectives at the lecture and the dinner that immediately followed, in interactions of nearly four hours, with hopes the information he provided would help further strengthen the bonds between Chinese and German educational institutions.
Many countries, but especially European ones, are fascinated by the rapid changes Chinese universities have been undergoing. They intend to understand the model China has been using to create a steady increase in demand for university education and possibly duplicate China's approach. Professor Zha, however, has made it clear that China's model for the university most likely cannot be repeated anywhere else other than China. "If you just look at the numbers, China is doing tremendously, but if you look into the rationales and reasons, you'll see the situation is very unique in China," he says.
The Chinese model of the university seems to have arisen as a hybrid of traditional ideals from the Confucian era, elements from the concepts of Western success, and in particular the Chinese state's spearheading of initiatives aimed at increasing efficiency and productivity on those state-engineered projects. Though the model bears some hybrid characteristics, it has been working for China—but only for China. Zha advises against believing this model will work outside the country. The success of their model is almost entirely contingent on involvement from China's state government as well as values characteristic of Chinese culture and perspective. In other words, the Chinese model of the university is being fed from multiple sources that are all distinct parts of China's long and rich tradition, something few other countries share in common with China.
Regardless of implausibility of imitating China's model of the university, Zha is "positively emotional" about European scholars' interest in the topic of Chinese universities, seeing as it's one of his major research focuses. He notes the ease of attracting people in Europe who are interested in hearing about universities in China. The appeal is apparently stronger in Europe than in North America. The University of Bonn, in addition to establishing stronger discourse on Chinese universities, is also keen to extend their exchange connections with York University. Zha's visit served as means of both satisfying European curiosity in China and creating a link between the University of Bonn and York University.