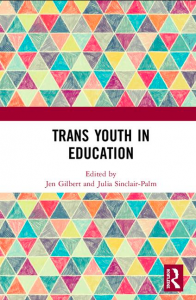 York Education Associate Professor, Jen Gilbert, felt like more research and conversation needed to go into how trans and gender non-conforming youth are treated in schools. With the help of Julia Sinclair-Palm, an Assistant Professor in Childhood and Youth Studies at Carleton University, Gilbert edited a book, Trans Youth in Education, in which multiple experts come together to discuss the politics of gender in the context of education.
Being transgender or gender non-conforming presents a set of challenges that are distinct from the challenges of their gay and lesbian peers. Gilbert and Sinclair-Palm bring together a number of emerging and established scholars to facilitate a conversation about the unique roadblocks trans youth face during their educations, as well as provide solutions to create a better educational environment for young trans people. "Too often, these youth are subsumed under the umbrella 'LGBTQ' but their particular needs and experiences are ignored," Gilbert says.
In the book, Gilbert and Sinclair-Palm target topics like bathroom restrictions placed against those with complex gender identities and the frequent disrespect or dismissal of the language trans people use to describe themselves. Gilbert and Sinclair-Palm emphasize a need for educators to be mindful of the labels associated with trans identities, as inappropriate terminology may force trans people into restrictive categories that don't capture the full breadth of their personal, subjective experiences.
The language around trans issues and individual trans identity is always changing as new information comes in and as trans people develop greater clarity regarding their own place in the world. Names and pronouns have the power to reshape a trans person's whole perspective and how they interact with society, reflecting a deep need for educators to respect the language trans people use in reference to themselves. Gilbert and Sinclair-Palm pay great attention to the various ways words can impact the experience of being trans.
Professor Gilbert hopes Trans Youth in Education prompts more conversation about the interactions between the education system and young trans people, as well as generates more strategies for better supporting trans youth during their time in school.
Gilbert feels like the book has done well so far by promoting an important dialogue in educational discourse. The book was originally published in full as a special edition of the journal Sex Education in 2018. The journal issue was so well-received, it was later republished as a book in 2019. "I am proud that the book includes some leading trans scholars in education and focuses on the experiences of young people themselves," Gilbert says.
Gilbert is one of York's most distinguished experts in sex education and LGBTQ issues. She also leads the Beyond Bullying Project, an initiative that aims to change the cultural landscape surrounding LGBTQ identities and reduce bullying of LGBTQ people, particularly in U.S. schools.
Trans Youth in Education can be purchased here.