---
This past April, the Faculty of Education hosted a Graduation Celebration for a cohort of 22 students in the Bachelor of Arts, Educational Studies program in Dadaab, Kenya. The 17 male and 5 female students hailed from a number of countries in the region including Ethiopia, Kenya, Somalia and Rwanda and are the first students to officially be awarded a BA, Educational Studies degree from York University. The students are a part of the Borderless Higher Education for Refugees (BHER) project.
A number of dignitaries – including Faculty of Education Dean Lyndon Martin; Windle International Kenya Executive Director Marangu Njogu; and representatives from UNHCR, the Refugee Affairs Secretariat, Kenyatta University and the Lutheran World Federation – attended the event that was held at the International Organization of Migration (IOM) Compound DMO Compound in Dadaab Kenya.
Above: Graduation Celebration 2019 video by BHER Program Coordinator HaEun Kim 
Dr. Njogu opened the event with a welcome which was followed by remarks from Deputy County Commissioner Harun Kamau and other partners from the local government and the UNHCR. York President & Vice-Chancellor Rhonda Lenton congratulated the students via video message and a number of York professors and teaching assistants who taught in the program also shared words of encouragement and their congratulations by video message. Dean Lyndon Martin also brought greetings and congratulations on behalf of the Faculty of Education.
During his remarks Dean Martin commented, "What an amazing accomplishment for this group of York graduates. As you leave us today, I ask that you remember the motto of York University "Tentanda Via – the way must be tried" and that you continue to bring what you have learned with us – your knowledge, your expertise, your passion, and I trust also compassion, to what lies ahead. I know you will remain committed to making a difference in the lives of your community and ask that you be caring, thoughtful, and most importantly critical in all that you do."
Although the cohort will not be physically present, they will graduate as a part of the Faculty's spring convocation ceremony at York U on Thursday, June 20th where they will be acknowledged and will officially receive their degrees from York President and Vice-Chancellor Rhonda Lenton.
In addition to the Graduation Celebration this past April, the BHER students also hosted and participated (in tandem with the annual Graduate Conference in Education that was happening at York University in Toronto at the time) in their first Research Symposium. The students presented their action research projects that they conducted in the camps over the past year in Dadaab. Some of the project titles included 'Drug Abuse Among Secondary Learners in Hagadera'; 'Quality Education for Children with Disabilities'; and 'Factors Influencing Girls Access to Primary Education in Dagahaley'.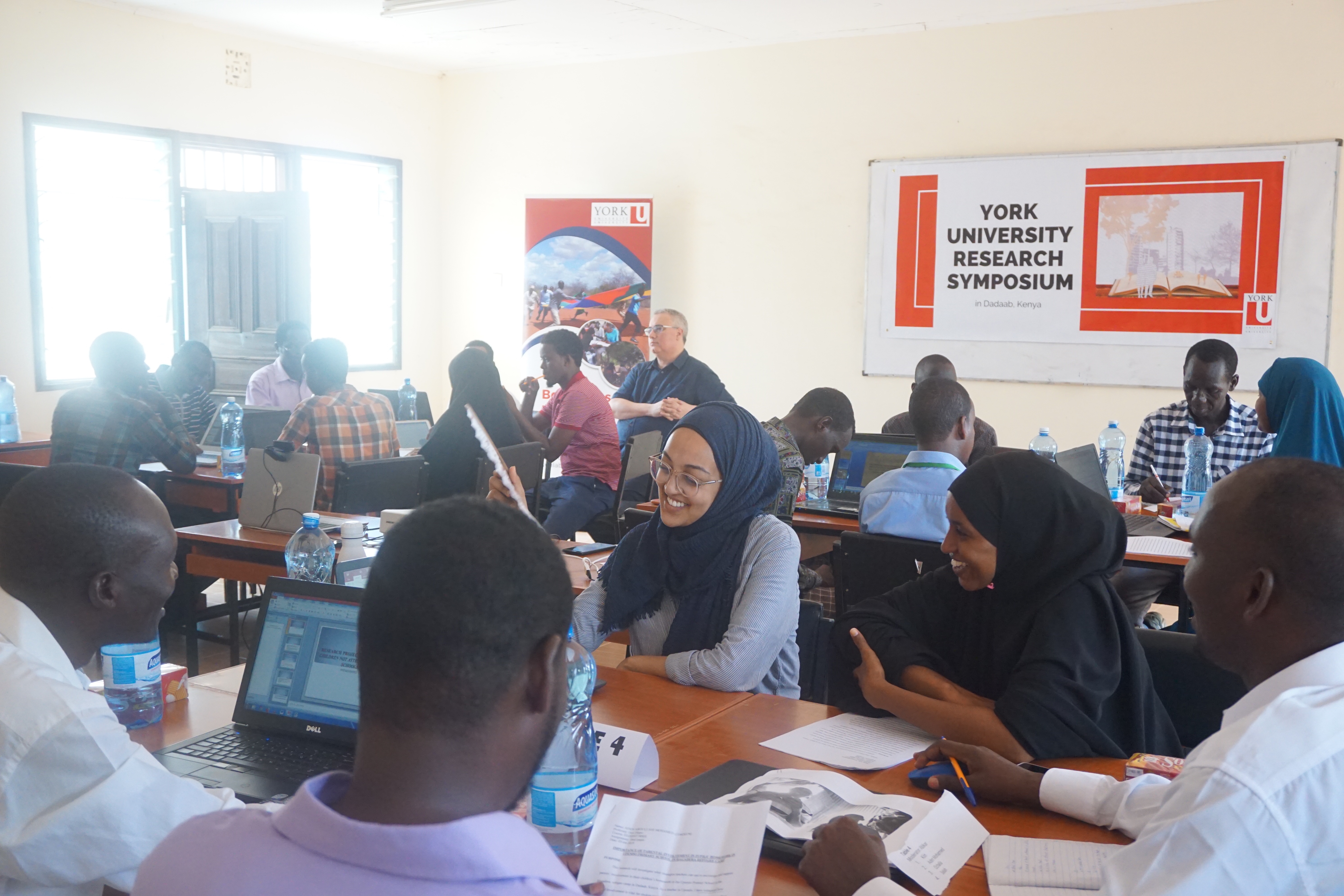 "This was also a unique opportunity for the students to mobilize knowledge in Dadaab, which is key to the future of education in the region," said Professor Don Dippo. "Staff from Kenyatta University and locals NGOs who were in attendance and participated in the conference were impressed by the work of the students and can apply some of the learning to their own organizations."
"The conference was an opportunity for the students to exchange ideas and share their experiences and research results in the camps," added BHER Program Coordinator HaEun Kim who was also a teaching assistant for the cohort. "From a learning perspective, it was a chance for the students to respectfully critique and provide feedback to each other and also demonstrated that a research conference and meaningful knowledge production can happen in Kenya".
The Borderless Higher Education for Refugees (BHER) Project is a development partnership of Canadian and Kenyan based institutions as well as international organizations that aim to make educational programs available where refugees need them. The BHER Partnership aims to:
improve the equitable delivery of quality education in refugee camps and adjacent local communities through university teacher training opportunities which will prepare a new generation of male and female teachers;
create targeted, continuing opportunities for young men and women in university programs that will enhance their employability through portable certificates, diplomas and degrees; and
support Kenyan academic institutions that already offer onsite/on-line university degree programs to vulnerable and marginalized groups.
Visit the BHER website to learn more about the project.