A desire to become a well-travelled international professional brought Anna Press to the Faculty of Education. Press was attracted to York's prominent international profile as a platform for helping students become global citizens. She was also passionate to make a positive difference in people's lives through teaching. Having completed a cognitive science and concurrent Bachelor of Education (BEd) degree, Press's internationalized York education helped her live, learn and teach abroad.
At York, Press participated in the Language Partners program. She and her classmates were paired with visiting teacher candidates from Hong Kong. These students accompanied Press to her classes and she mentored them. In the process, the group developed close connections. Eventually, Press visited her international friends at their home in Hong Kong.
She was also involved in The Mark and Gail Appel Program in Holocaust & Antiracism Education, also known as "Learning from the Past, Teaching for the Future" (TftF). TftF was an initiative through The Centre for Jewish Studies and The Canadian Centre for German and European Studies at York. It connected Canadian university students with their German and Polish peers to explore means to counter racism and anti-Semitism by educating people about the Holocaust as they traveled through Germany, Poland, and Canada visiting memorial and education sites – including former concentration camps.
"We incorporated that knowledge into our lessons and gave our students an enhanced understanding of social justice," Press says. She also created a documentary film based on her experiences on the trip, and used the film to facilitate discussions in her classes.
Another important piece in Press's education was her specialization in urban education. One of her practicums was at Jane and Finch where she gained an understanding of the different types of classrooms a teacher might find herself in.
Finally, Press undertook an internship program offered by York International in which she taught English and led workshops at a homeless shelter in Mexico City for 4 months. This opportunity helped her discover the diverse types of learning that occur outside a traditional classroom setting.
After graduating, Press taught in Turkey for two years. "If I hadn't done the courses at York, I wouldn't have been as well prepared to go out into the world," she says.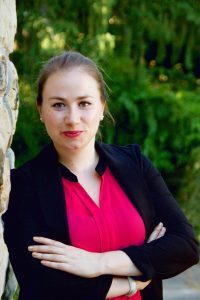 She urges future students to be aware of their interests and seek the opportunities to engage more deeply with their interests during their time at university. "Look for opportunities to broaden your perspective while you're still in school," Press says.
"For example, I knew I was interested in international teaching and learning. York gave me those international opportunities." Other advice includes always saying "yes" to opportunities, especially if they lie outside one's comfort zone.