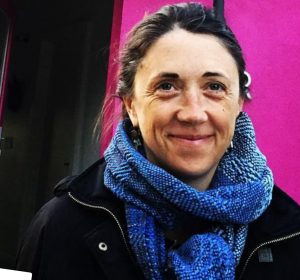 Kerri Embrey's passion for innovation led her to become a teacher and implement an innovative curriculum in her teaching practice. Today, Embrey holds a Bachelor of Fine Arts degree from the University of Victoria; and a Master of Education (MEd) from York. She is at the cutting edge of teaching and Education research.
Originally, Embrey was drawn to teaching because of her desire to help children reach their potential. She loves connecting with kids who she says bring creativity and a fresh perspective on the world adults may not have. "Engaging with kids helps one think differently about things and relive one's own childhood," she says. "I felt the kids' enthusiasm and magic."
Before coming to York, Embrey was a teacher at The Bishop Strachan School. Over time, she became interested in Reggio pedagogy which is at the centre of a broader trend where the role of a teacher is shifting from being the ultimate source of all knowledge to a mentor and partner for students. This trend is part of what Embrey describes as a constructivist approach that encourages children to develop their understanding through experience, action and conversation.
"There are many ways of learning something," Embrey explains. "There are many ways of understanding the world. Reggio looks very different than worksheets and classes where everyone produces the same thing."
In fact, Reggio involves seeing a child as a subject of rights, including the right to be listened to and heard, as well as having their identity recognized. It also includes seeing school as a place of research for both teachers and students, and supports the child's creativity, recognizing their individuality.
Eager to find out more about this exciting new approach, Embrey looked into what various Education programs had to offer. She discovered York's program was heavily involved with Reggio pedagogy and the interdisciplinary approach she was seeking.
"Many professors at York were doing work in harmony with what I wanted to be part of," she says.
While other university programs seemed isolated to her, York provided an opportunity for different departments to collaborate. For instance, one of Embrey's instructors was also a Creative Writing professor. She enrolled part-time in the MEd program and continued teaching during her time at York.
"Doing the MEd helped me understand the theoretical underpinnings of my field," Embrey says. "It also gave me the language to discuss Reggio in depth and advanced my professional development." The Faculty of Education's focus on social justice aligned well with her desire to shake up the status quo. "Education became a way for me to maintain a creative mindset and stay true to my desire to be an innovator," she says.
As she worked toward her MEd, many teachers, schools and entire school boards embraced the Reggio approach. Embrey notes Ontario's kindergarten curriculum also incorporated Reggio elements. She found herself in the right place at the right time as teachers rushed to learn more about Reggio.
The expertise she developed at York helped her become a mentor and thought leader for future generations of teachers. She leads an annual summer symposium at Bishop Strachan for kindergarten teachers and Early Childhood Educators. She also teaches Reggio inspired courses at Bishop Strachan. "I would not feel confident doing that had I not done York's program," Embrey says.
While her personal experience has been positive and productive, Embrey acknowledges the challenges newly graduated teacher candidates face. She advises students to raise their qualifications, be patient and think outside the box. "I know it can be hard to break in," she says. "Sometimes, you're waiting for people to retire and new positions to open. Having an MEd degree and being involved with something innovative makes you more employable."