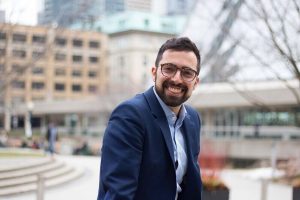 Marc Caporiccio makes his living by giving college and university students their first big career break. After graduating from the Faculty of Education's Concurrent Bachelor of Education degree (BEd) program in 2011, Caporiccio examined all the career options available to him. He decided to pursue a career on the administrative side of Education, currently working in New York as the Diversity Lead and Sr. Campus Recruiter for RBC Capital Markets US Campus Recruitment. In this role, he creates equal access opportunities for underrepresented student groups and mentors students breaking into the finance industry. He also gets to use the teaching strategies and skills he learned in York's Concurrent BEd program.
Caporiccio recalls how his high school career aptitude test suggested his ideal occupation would be as an elementary school teacher. "It seemed right to me at the time," he says. "I loved working with little kids. That prompted my interest in primary/junior education." The test also prompted his decision to attend York's Concurrent Education Program which had a strong reputation for a curriculum that included a focus on social justice and social change.
"York's BEd program as well as my on-campus student experience, played a major role in my life and in my career decision-making process," Caporiccio says.
At York, Caporiccio experienced a transformative period of rapid personal growth and development. One such experience was a semester studying abroad in Germany through the Faculty's International Exchange offered to students in the BEd program.
"It was the highlight of my undergraduate experience," Caporiccio says. "I learned a lot about myself and how I learn, and I studied education systems and how they vary across continents."
Another experience that influenced Caporiccio's career choice was his decision to become involved in student life and campus community. He was elected President of York's Founders College Student Council, worked in Residence Life for two years and was elected by the Education Faculty student body as their faculty representative on the York Federation of Students. "I jumped fully into the the campus community at York, I took the responsibility of representing my peers seriously, and it came back to me 10-fold," he says.
Having graduated in 2011, Caporiccio still encounters many familiar faces when he visits Toronto. Moreover, one of his acquaintances at the York Federation of Students helped connect him with his first RBC Capital Markets job opportunity.
However, while well-connected through his work on campus, landing full-time employment post-graduation in the field of Education was not a straightforward path. Caporiccio attended several interviews for teaching positions, but ultimately had to re-evaluate his career interests. He decided to focus on his strengths and passions by returning to his roots of being a leader and activist for social change. His work with university stakeholders, including upper management, motivated him to pursue a career on the management side of Higher Education.
This decision paved his path to graduate studies in Higher Education and Student Affairs at New York University (NYU), in the Steinhardt School of Culture, Education, and Human Development. Through this program, he worked at the NYU Stern School of Business, Undergraduate College where he developed orientation programming, social programs and leadership development opportunities while teaching a first year course on Leadership and Social Impact.
During his time at NYU Stern, he advised the LGBTQ Student Business Society to develop the business schools' first Ally Week program, for which he received the 2014 President's Award. Through this program, he met a group of Credit Suisse professionals who were engaged with LGBTQ issues and whose work made a business case for diversity and inclusion in the workplace. This meeting inspired a mentorship and an interest in finance; six months later, his mentor recommended him for a junior campus recruiter position and he has been flourishing in this field since 2015.
"This work fulfills me because I am educating our business partners on the different components of the campus recruitment process," Caporiccio says. "I help young people think of me as a guidance counsellor at a bank. I help them understand the landscape and connect them with people and opportunities. In many cases, I get to provide them with their first big break which is very rewarding."
Caporiccio hopes to teach again one day in a classroom setting at the college level, but he acknowledges it's not for everyone. "You won't always get a pat on the back or props from your students," he says. Until then, he is not ruling out any options or opportunities. "For Faculty of Education students, my advice is not to limit yourself. There are many transferable skills you're gaining through your BEd program. Listen to your gut in terms of what you really want to do."
He encourages students to note the companies they wish to join and contact recruiters at these workplaces. "Book coffee chats with professionals," Caporiccio says. "And don't sell yourself short - professionals are more willing to help than you may think." Other suggestions include reaching out to people who inspire you to inquire on their educational background, their career path, and their lessons learns, or biggest regrets.
Above all, students should remain flexible and embrace the unknown. "If you had asked me in my first year of university what I saw myself doing as a profession, I would have said a primary or elementary school teacher," Caporiccio says. "But I came across great opportunities that I couldn't refuse which have led me to such a relevant and rewarding career… and the best is yet to come!"