The Office of Professional Learning in the Faculty of Education partnered with York's Asian Business and Management Program (ABMP) to provide a unique training program on Inquiry-Based Learning for over 80 teachers and administrators in Beijing, China this past June.
The Beijing Institute of Education (BIE) engaged York's University Faculty of Education and ABMP to develop and deliver this unique professional learning opportunity. The learning goals for the programs were to have the participants:
• Understand theories, purposes and practices of inquiry-based learning.
• Foster engaging, trusting and inviting learning environments that promote student voice, leadership, critical inquiry and curiosity.
• Critically explore pedagogical strategies used in inquiry-based learning and assessment and evaluation practices that are linked to expectations, and meet the individual needs of students
• Critically explore fair, equitable, transparent, valid and reliable assessment and evaluation processes that honour the dignity, emotional wellness and cognitive development of all students.
The BIE will later conduct research to determine the impact that the training program had on the professional practice of teacher's in their classrooms in China.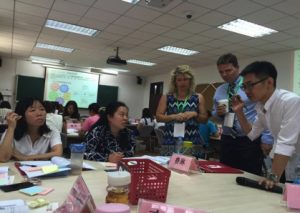 The training was led by York instructors Marc Husband and Jilian Stambolich. Prior to his York University Faculty of Education appointment, Marc worked for 15 years as a middle school teacher and later an Elementary (K-8) Instructional Leader in Mathematics/Numeracy at the Toronto DSB. Marc is also a 2nd year doctoral student in the Faculty of Education. His interests include working collaboratively with teachers to explore the practices involved in the teaching and learning of mathematics. Jilian has served as a classroom teacher for the York Region DSB, York University Faculty of Education Professional Learning instructor and facilitator to a variety of schools and districts both locally, provincially and abroad. She leads courses for Teachers and Administrators on topics such as Inquiry Based Learning, Arts Integration, Pedagogical Documentation and Music Education. Marc and Jilian were delighted to share their expertise along with the most current research around best practices in Inquiry-Based Learning with the teachers in China.
Over the past year, York/ABMP has delivered ten training programs primarily focussed on varied instructional strategies to enhance student engagement and learning in Beijing. The response to these programs, according to the evaluations, has been overwhelmingly enthusiastic and positive in terms of the growth of the participant's professional practice and mindset about teaching and learning.
Jilian and Marc also provide instructional leadership for teachers in Ontario. This summer, Jilian will be instructing the 21st Century Learning: Creating an Inquiry-based Classroom certificate module. Marc has just completed teaching the Math for Teaching and Learning: A Collaborative Inquiry module. For further information about professional learning programs in the Faculty of Education, please visit https://edu.yorku.ca/profdev/.