On Tuesday April 19th, The Office of Professional Learning in the Faculty of Education at York Universityhosted a meeting of the York U Cooperative District School Board (DSB) partners. These DSBs include Toronto, Toronto Catholic, Halton, Halton Catholic, Peel, Dufferin Peel Catholic, York Region, York Catholic, Durham, Durham Catholic, Simcoe County, and Simcoe Muskoka Catholic. Representatives from each DSB attended to learn more about the Office of Professional Learning's capacity to support local learning and their specific professional learning needs through the development of customized programs. It was also an opportunity for the Professional Learning Office to gain a better understanding of each of the DSB partners most current and pressing professional learning needs. From mathematics and literacy, to mentoring and leadership programs for leaders and aspiring leaders, the DSBs were interested to learn more about the professional learning options available to them at York U.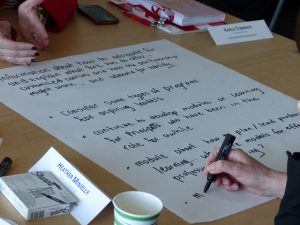 "This was an amazing opportunity for us to have a 2-way conversation with our DSB partners to find out more about their individual learning needs and to let them know what we could offer to help them  address these needs," said Janet Murphy, Director of Professional Learning at York University's Faculty of Education.
The Office of Professional Learning presently offers a variety of accredited and non-accredited certificate and custom programs. Advanced standing credits towards the York U Masters of Education degree program are also available for people who have successfully completed a York U PQP or AQ specialist course.
Customized solutions can be structured to meet the learning needs of DSBs by:
Modifying program delivery schedules adapted to organizational and learner requirements
Accommodating employer subsidies to support a cohort of learners
Hiring recognized curriculum leaders to provide instructional leadership
Utilizing local sites easily accessible for the learning
Offering York's full end-to-end learning management services including regulatory reporting obligations
Visit the Professional Learning website to learn more about the dynamic and responsive programs and services available to educators and education professionals across the province.