On Friday November 13th, teacher candidates from the Catholic Education Centre (CEC) participated in the The Angel Foundation for Learning's 10th Annual Evening to Feed the Soul Gala presented by Johnson Inc., at the Riviera Parque Banquet Hall.
The Angel Foundation for Learning is the charitable organization that serves the needs of students in the Toronto Catholic District School Board (TCDSB) through essential nutritional, educational, social and emergency support programs, in order to give every student an equal opportunity to thrive. Recent figures suggest that one third of TCDSB students are from families that fall below the poverty line.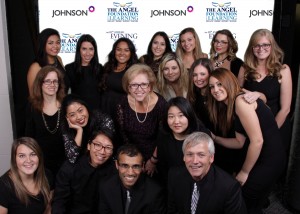 York teacher candidates sold raffle and silent auction tickets and handled all of the logistics of the evening, no easy task with over 600 guests present at the event. The event provided a wonderful networking opportunity and some real insights about service learning.
The evening began with an energetic performance by the SBC Jazz Band from St. Basil The Great College School, followed by a night of food, music, dancing, prizes and a silent auction. The event was MC'd by CEC alum Andria Angelosante (TCDSB Vocal Music Teacher) and Everton Lewis (TCDSB Community Relations Officer).
"The highlight for me was performing choreographed dances with the other TCS to KNAAN's Waving flag and the Pussycat dolls hit song Jai ho," said TC Carmella.
"I think we added a great deal to the event and it was worth all the time and effort we put into it", added Michaela, another TC from the CEC. "We met many other educators' and most of all we helped many students."
Marisa Celenza who organized the event thanked the York students publicly and commented that "we would not be at this level of success without the help of the York teacher candidates."
To align with the TCDSB's "Together with One Voice: Harmonizing our Faith through Family, Parish and School" focus, this year's Gala definitely kept things "in the family," said Mariza Celenza, Executive Director of The Angel Foundation for Learning. " The generosity of our guests and sponsors raised over $48,000 and we want to thank the York University teacher candidates for their tremendous support in helping to make this a very successful event."