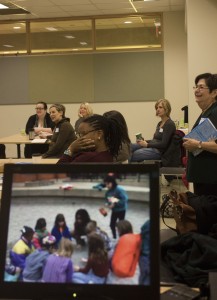 On Saturday November 21st students and faculty from the Graduate Program in Education's Diploma in Early Childhood Education hosted a workshop to engage in dialogue and learn more about Esther Fine's groundbreaking research on peacemaking for children. Raising Peacemakers: Exploring Ways to Use Children's Conflicts as Opportunities for Talk provided a forum for those who attended to examine and discuss how children listen and respond to each other during moments of conflict.
Fine's research on peacemaking and conflict resolution for children dates back twenty-two years to her work at Downtown Alternative School (DAS), a small public elementary school in Toronto. At the school, child-to-child conflicts were understood as opportunities for discussion and learning. , Her most recent book Raising Peacemakers (Garn Press, July 2015), which provided the context for the workshop, tells the story of peacemaking and how it has stayed with the children from DAS as they have grown into adolescence and adulthood.
"The peacemaking process provides an opportunity for children involved in conflicts to come up with alternative ways to resolve their issues by conversing and learning from each other," said Fine. "This in itself provides a learning opportunity for educators to observe and for children to come up with "authentic" and "real" solutions resolve conflicts themselves in an inclusive environment where differing viewpoints and disagreements are handled fairly and safely."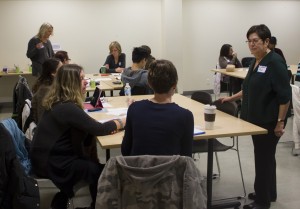 Throughout the morning, workshop participants discussed some of the things that they could do to encourage collaboration and negotiation among children; what they could learn from children about how to better listen and respond; and, what cues to look for to know that children are listening and responding productively to each other during moments of conflict.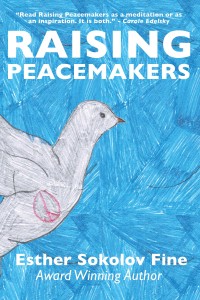 The following quotes from participants summarize the success of the workshop.
"The videos were fascinating. They made me realize that I need to step back as a teacher and give my students space to let their voices be heard. I don't need to always comment on everything – either affirming or re-directing – I can just let them be."
 "Peacemaking teaches language that is enduring."
 "The experience has inspired my thinking about my history of 'a lack of peacemaking' and thinking about encouraging peacemaking among adult students."
"It was great to meet some of the people from the book and to have them reflect on themselves as children and how role playing and peacemaking instruction has helped them with conflict as adults."
"It was good to participate in a discussion regarding conflict that stated a child achnowledged is a voice heard. A teacher can make an incredible impact with such a simple gesture."
"What's important to recognize is that the "peacemaking" approach uses moments of conflict as opportunities for discussion," said Fine. "Teachers, teacher educators, and researchers can use the DAS stories as an inspiration to engage others (children and adolescents) in developing their own organic style of peacemaking."
For more information please visit Children as Peacemakers.