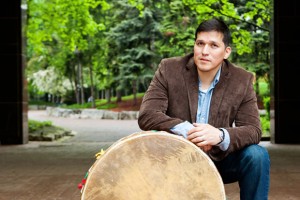 The Faculty's Office of Academic Programs successfully launched its #connect2edu initiative with a workshop by recent MEd grad Eddy Robinson. Eddy's talk Anishinaabe Nini Ndaaw: How We Begin Urban Indigenous Ways of Knowing, examined how York teacher candidates can prepare themselves for their future classroom practice by developing their knowledge and understanding of Indigenous histories, cultures and traditions to augment their ability to respond to the specific needs and interests of Indigenous students and communities who they will be working with as future teachers.
Eddy spoke to the TCs and reflected on his personal experiences navigating the school system as a person of Anishinabe (Ojibway/Cree) descent. "I approach the topic of Indigenous Ways of Knowing through an urban lens grounded in the Indigenous methodology of locating one self," said Eddy. "As future teachers you need to learn how to safely ask the question of how we as a society can engage Indigenous Ways of Knowing (culture) within professional and educational environments."

"It's important that our teacher candidates inform themselves about First Nation, Metis and Inuit traditions and perspectives, both historical and contemporary, to create and sustain an engaging, inclusive, safe and equitable learning environment that welcomes and respects indigenous ways of knowing, recognizing the impact on students in today's classrooms," said Diane Vetter, Practicum Coordinator in the Faculty of Education.
#connect2edu is an initiative being undertaken by the Office of Academic Programs in the Faculty of Education that includes a range of engagement activities, including events and workshops. The goals of this initiative are social and intellectual: to create more opportunities for connection and discussion among the members of our Faculty community that participate in our academic programs— undergrad students, grad students, and faculty. We want to heighten engagement among members of our Faculty community and with the ideas and research in education that shape our fields of practice. We will be organizing #connect2edu events across the year that invite inquiry and lively debate about contemporary issues and challenges in education. Be part of #connect2edu on social media: follow us on Twitter @edu_ADacademic!