PQP Instructor Domenic Giorgi talks about his experience facilitating the Principal's Qualification Program for York University. Domenic is currently Principal of McKee Public School, TDSB.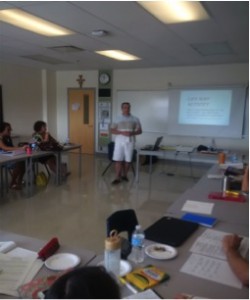 "There was initial reluctance to teach the PQP at York and I reflected on these questions: Am I qualified? There are so many other more experienced Principals. What will others think of me?  Maybe my approach to leadership should not be a model for others?  What can I offer teachers wanting to enter this leadership role?"
The benefits of teaching the Principal Qualification Program have exceeded my expectations.  Every time I complete the delivery of a course, I am renewed regarding my sense of purpose as a leader in my school and School Board.  I am reminded of the great value and influence we as administrators, have on our school and educational community.  I am rewarded with the fact that teachers have been given the ability to deal with real life scenarios that are current and vital to moving a school toward an active, healthy and engaging community.  Teachers who complete the course feel confident to enter into the role of a school administrator.
Quotes from candidates currently taking PQP 2 summer 2015:
I can see direct application of the assignment to my career development while educating myself to help the community I am servin.g
I appreciate the perspective in understanding how decisions are made and the value of process beyond the classroom and to the community at large.
I am grateful to have updates about our learning with current information in our school, board and Ministry
I like the collaborative aspect of the course -learning and networking with other like-minded adults/peers