Oct
25
Wed
Information Sessions for Bachelor of Education Concurrent and Consecutive Programs 2018

@ Room 050C McLaughlin College
Oct 25 @ 2:30 pm – 4:00 pm
Are you interested in teaching?
Attend one of our upcoming information sessions to learn more about our Concurrent and Consecutive Bachelor of Education (BEd) degree programs. All sessions will be held in room 050C McLaughlin College at York University's main campus on the following dates and times.
Thursday, October 12, 2017 - 5:30 p.m
Tuesday, October 17, 2017 - 2:30 p.m.
Wednesday, October 25, 2017 - 2:30 p.m.
Thursday, November 2, 2017 - 5:30 p.m.
Tuesday, November 7, 2017 - 2:30 p.m.
For further information, please contact:
The Office of Student Services
e: osp@edu.yorku.ca
p: 416-736-5001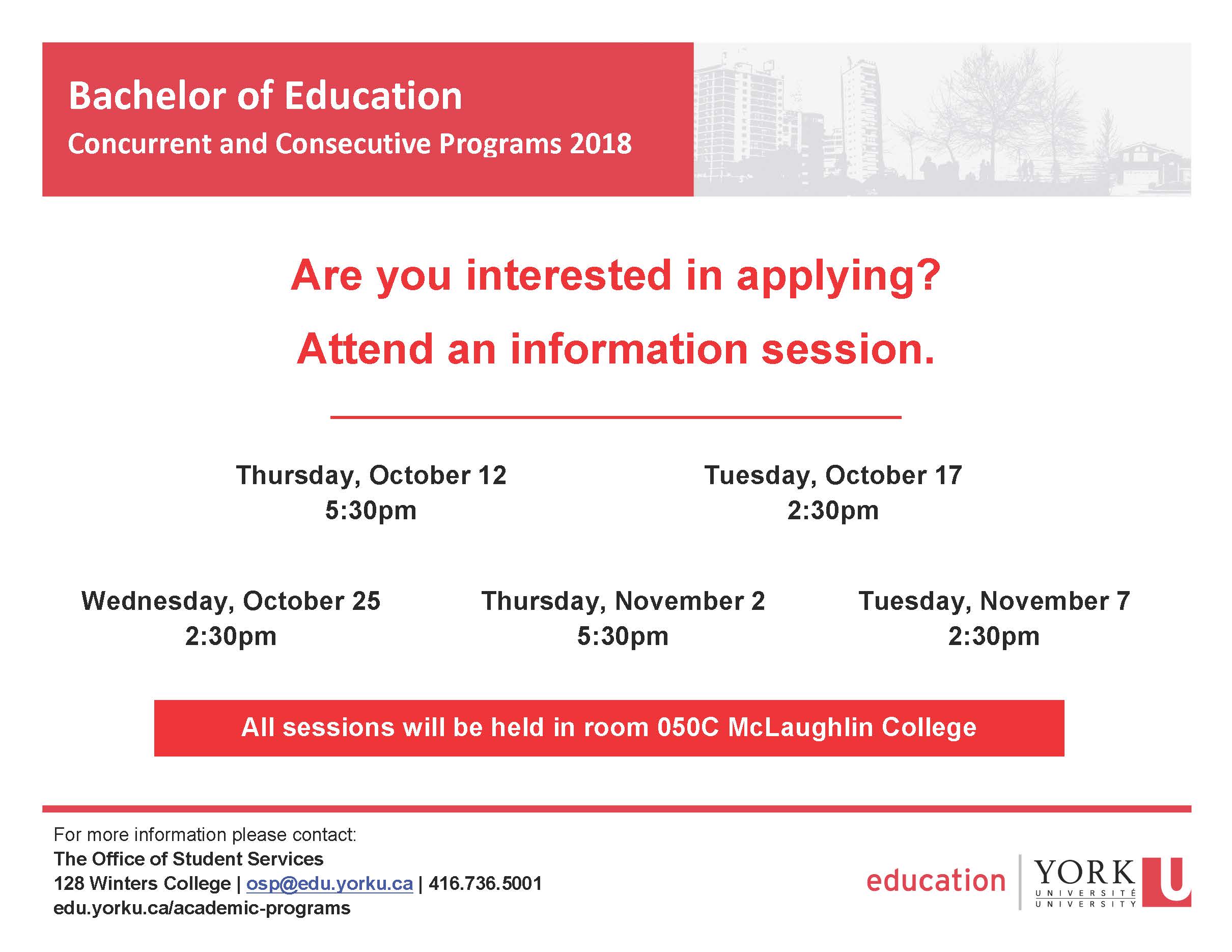 Nov
2
Thu
Deaf and Hard of Hearing Teacher Education program - Information Night

@ room 157C McLaughlin College
Nov 2 @ 6:00 pm – 7:30 pm
Join us for an information night for certified teachers who are interested in applying to the Deaf and Hard of Hearing Teacher Education Program in the Faculty of Education at York University.
Topics of discussion will include:
The many roles of teachers of the deaf and hard of hearing
An overview of the Deaf and Hard of Hearing Education Program
o Structure of the program
o Courses
o Oral/Aural and ASL Streams
Full-time and Part-time options
Credentials following graduation
How to apply
o Prerequisites
o Application process
o If you are accepted
For further information, please contact svavra@edu.yorku.ca or call 416-736-5971 (Voice) or 416-736-5972 (TTY).
Click here to learn more about the program.
Nov
6
Mon
Why Race? Why Now?: Focusing Diversity in Higher Education

@ 305 Founders College
Nov 6 @ 12:30 pm – 4:30 pm
12:30 - 1:30 p.m. - Reception and Book Sale
2:30 - 4:30 p.m. - Formal talk with Q & A
Matthew Shenoda is a writer and professor whose poems and essays have appeared in a variety of newspapers, journals, radio programs and anthologies. He has been twice nominated for a Pushcart Prize and his work has been supported by the California Arts Council and the Lannan Foundation among others.
His debut collection of poems, Somewhere Else (Coffee House Press), was named one of 2005's debut books of the year by Poets & Writers Magazine and was winner of a 2006 American Book Award. He is also the author of Seasons of Lotus, Seasons of Bone (BOA Editions Ltd.), editor of Duppy Conqueror: New & Selected Poems by Kwame Dawes, and most recently author of Tahrir Suite: Poems (TriQuarterly Books/Northwestern University Press), winner of the 2015 Arab American Book Award and with Kwame Dawes editor of Bearden's Odyssey: Poets Respond to the Art of Romare Bearden(TriQuarterly Books/Northwestern University Press, 2017).
Shenoda teaches in the fields of ethnic studies and creative writing and has held several faculty and administrative positions at various institutions. Formerly the Assistant Provost for Equity and Diversity at CalArts he is currently the Dean of Academic Diversity, Equity, and Inclusion and Special Advisor to the President at Columbia College Chicago where he is also Professor of English and Creative Writing. Additionally, Shenoda has served on the Board of Directors of several arts and education organizations and is a founding editor of the African Poetry Book Fund. He lives with his family in Evanston, Illinois.