Nov
3
Thu
lxawéelŭmeew - An Indigenous Education Speaker Series

@ Harry Crowe Room (109 Atkinson)
Nov 3 @ 12:00 pm – 2:00 pm
nIshnabek de'bwe wIn // telling our truths
Featuring:
Susan Dion (York University)
Carla Rice (Canada Research Chair, University of Guelph)
In reference to the storyteller N. Scott Momaday (1998) writes,
We are informed by his sounds, transported by his images, and, finally, moved to contemplate the implications of what we have been told. His words are powerful and persuasive. They are creations that create listeners in the process of the telling. (p.78)
This session will feature a series of Digital Stories created by urban Indigenous, students, parents and teachers. The screening will be followed by a panel discussion addressing issues in urban Indigenous Education.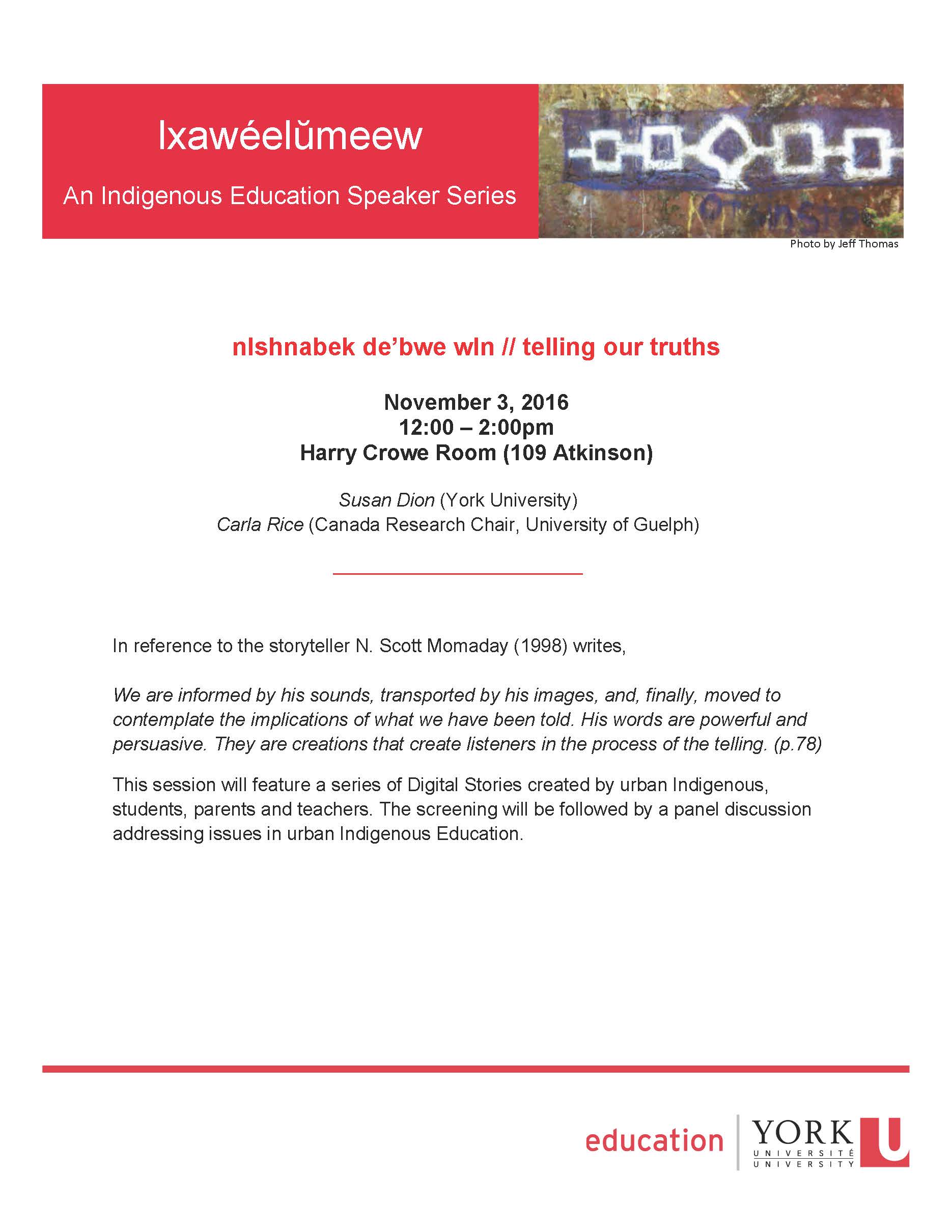 Nov
10
Thu
This Is Impact: Toronto Alumni Reception featuring Karl Subban

@ The Aperture Room
Nov 10 @ 7:00 pm – 9:00 pm
Alumnus Karl Subban (BEd '90) will be the guest speaker at the This Is Impact: Toronto Alumni Reception on Nov. 10.
A natural storyteller, Subban is a former school principal in our local community, and the father of five children – including two teachers and three NHL players. He'll touch on his personal story of raising accomplished athletes and educators with the lessons he's learned as a coach and principal.
The evening will also be an opportunity for York alumni to relive their days at York University and reconnect with old friends and make new ones. Alumni will have the chance to hear from York President and Vice-Chancellor Mamdouh Shoukri on the many exciting changes at the University. They'll also learn about York's most ambitious campaign yet and ways they can get involved.
Top your night off with a prize giveaway, and it will definitely be one to remember!
RSVP today as space is limited!

Note: Ticket cost includes admission to reception, one drink ticket and hors d'oeuvres.
This event is proudly sponsored by York University's Affinity Partner for Home and Auto Insurance:
TD Meloche Monnex

We look forward to seeing you there!
Jan
18
Wed
lxawéelŭmeew - An Indigenous Education Speaker Series

@ 519 Kaneff Tower
Jan 18 @ 12:00 pm – 2:00 pm
Indigenous World Views: Engaging with Indigenous Art and Artists

Featuring:
Susan Dion and Jennifer Wemigwans (York University)
Tanya Senk (TDSB Aboriginal Education Centre)
Contemporary Aboriginal artists in Canada and around the world are continually
interpreting, portraying, and recasting Indigenous histories and knowledge teachings.
Through their art they pass on ancestral stories depicting the knowledge gathered along
pathways of family bloodlines, community histories, and across generations. These
stories are not fixed in the past, but are told in the present, being continually
regenerated, weaving their way in and out of our personal narratives. (Dion Fletcher,
2011, p.12)
Drawing on the work of Indigenous Artists including Christi Belcourt, Heather Igloliorte,
and Daphne Odjig this talk will focus on learning from and with the work of Indigenous
artists.