Feb
9
Thu
Strategies for Success: Teaching Self-Advocacy

@ Room 3140 - Victor Dahdaleh Building (Keele Campus)
Feb 9 @ 2:00 pm – 4:00 pm
FREE workshop for BEd students
Learn and practice strategies to implement self-advocacy in schools
Help students with disabilities prepare for postsecondary education
Start building your portfolio!
Certificates of completion will be provided.
Hosted by:  Physical, Sensory & Medical Disability Services & Education Community Placement Students.
RSVP to: eechoi@yorku.ca (please indicate if accommodations are required)
Apr
10
Mon
A Celebration of Beginning Teaching

@ Founders Assembly Hall (152 Founders College)
Apr 10 @ 10:00 am – 1:00 pm
Join us for a culminating educational activity and event to celebrate our first graduating cohort from our two-year Consective B.Ed Program. Organized by course directors of Research into Practice, Teacher Candidates will gather to engage in possibilities for teaching and learning from reflexive practice. Invited speakers will discuss how they engage in meaningful teacher practice and communities of practice beyond pre-service education. All are invited to join in this celebration of teaching and our candidate teachers' many accomplishments during their time at York.
Panelists:

Denis Bell is a Grade 6 French Immersion teacher at Davisville Public School in the TDSB. A graduate of York University's consecutive program, he completed his Bachelor of Education in 2011, at the former Regent Park site. He continues to work extensively as a mentor teacher and site coordinator, assisting York Glendon concurrent students in preparation for their upcoming careers. Currently, Denis carries the (POR) Position of Responsibility in Numeracy, and serves as the designated Math lead for his school. 
Matthew Morris is an elementary school educator, speaker, blogger, and Anti-Racism activist in Toronto. He is completing his M.A. in Social Justice Education at OISE and currently teaches 5th grade in the Toronto District School Board.

Steve Pilibbassian was born and raised in the Halton Area. He has held numerous educational positions in school boards and other educational sites. He has worked in leadership positions as vice principal and principal. He is currently principal at Ecole Forest Trail Public School. He holds a Masters of Education in Organisation and Administrative Studies from Brock University​.
Shauntae Robinson-Weekes is a second year French Immersion teacher in York Region. She is a graduate of York University's 2015 Urban Diversity cohort in the Faculty of Eduction. She is passionate about the implementation of social justice education in all schools across Canada and aspires to be an administrator in the future.

Jennifer Watt is an Instructional Leader at the Toronto District School Board. Her book, IQ: A Practical Guide to Inquiry-based Learning, was the most frequently borrowed book at the OCT's Margaret Wilson Library in 2015. A former secondee at York University's Faculty of Education, her latest endeavour was as a member of the writing team for a three-part Teacher Leadership Additional Qualification (AQ).
Moderator:
Vidya Shah - Seconded Faculty Member
For more information please contact Aparna Mishra Tarc at AMishraTarc@edu.yorku.ca.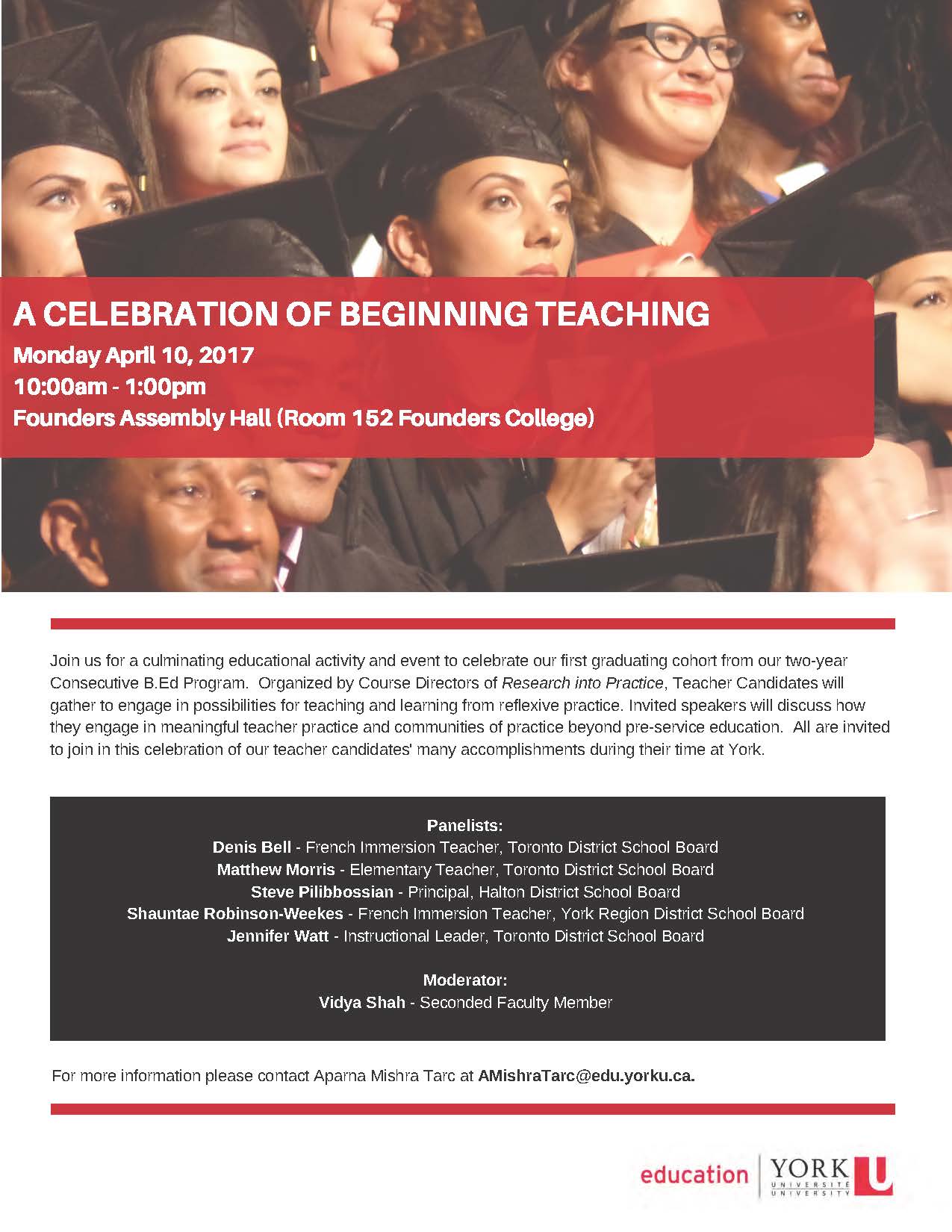 Jan
20
Sat
Teaching with Technology workshops

@ 3146 Victor Phillip Dahdaleh Building (formerly the TEL Building)
Jan 20 @ 8:30 am – 4:00 pm
Learn how to engage learners with technologies including SMARTBoard, Google Classroom, coding and robotics. Led by an experienced and Google-certified teacher, this hands-on workshop provides you with an understanding of how to develop lessons relevant to your teaching assignment using technology tools.
For further information and to register visit yorku.edu.eventbrite.com