Nov
6
Mon
Why Race? Why Now?: Focusing Diversity in Higher Education

@ 305 Founders College
Nov 6 @ 12:30 pm – 4:30 pm
12:30 - 1:30 p.m. - Reception and Book Sale
2:30 - 4:30 p.m. - Formal talk with Q & A
Matthew Shenoda is a writer and professor whose poems and essays have appeared in a variety of newspapers, journals, radio programs and anthologies. He has been twice nominated for a Pushcart Prize and his work has been supported by the California Arts Council and the Lannan Foundation among others.
His debut collection of poems, Somewhere Else (Coffee House Press), was named one of 2005's debut books of the year by Poets & Writers Magazine and was winner of a 2006 American Book Award. He is also the author of Seasons of Lotus, Seasons of Bone (BOA Editions Ltd.), editor of Duppy Conqueror: New & Selected Poems by Kwame Dawes, and most recently author of Tahrir Suite: Poems (TriQuarterly Books/Northwestern University Press), winner of the 2015 Arab American Book Award and with Kwame Dawes editor of Bearden's Odyssey: Poets Respond to the Art of Romare Bearden(TriQuarterly Books/Northwestern University Press, 2017).
Shenoda teaches in the fields of ethnic studies and creative writing and has held several faculty and administrative positions at various institutions. Formerly the Assistant Provost for Equity and Diversity at CalArts he is currently the Dean of Academic Diversity, Equity, and Inclusion and Special Advisor to the President at Columbia College Chicago where he is also Professor of English and Creative Writing. Additionally, Shenoda has served on the Board of Directors of several arts and education organizations and is a founding editor of the African Poetry Book Fund. He lives with his family in Evanston, Illinois.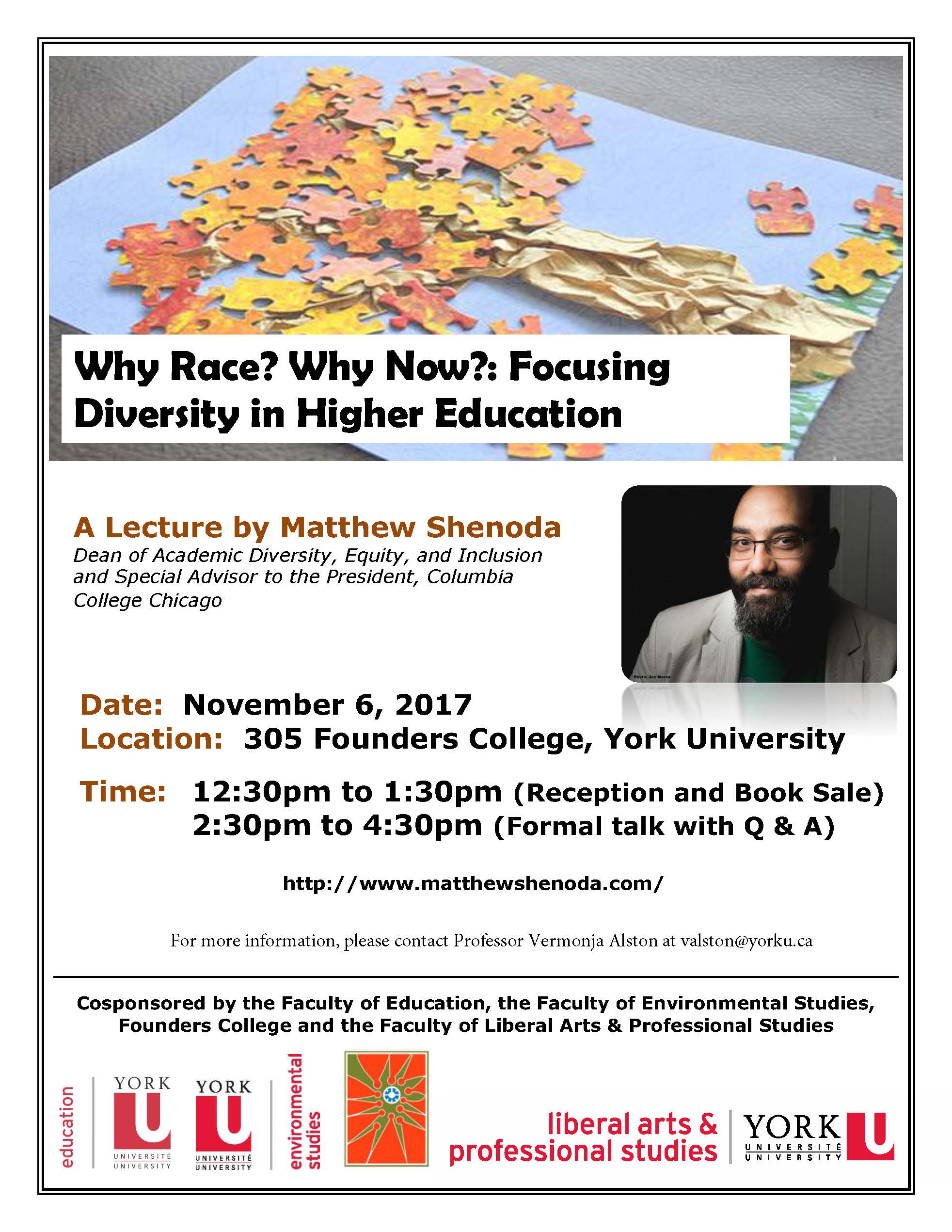 Nov
14
Tue
Graduate Program in Education OPEN HOUSE

@ Room 115 Winters College (Graduate Program in Education Office)
Nov 14 @ 3:00 pm – 5:00 pm
Interested in applying to the Graduate Program in Education? Join us for our annual OPEN HOUSE event for prospective students on Tuesday, November 14, 2017.
Come find out more about our:
Master of Education (MEd)
Doctor of Philosophy (PhD)
Graduate Diplomas
Learn more about our programs, how to apply, and meet current students and faculty.
Light refreshments will be served.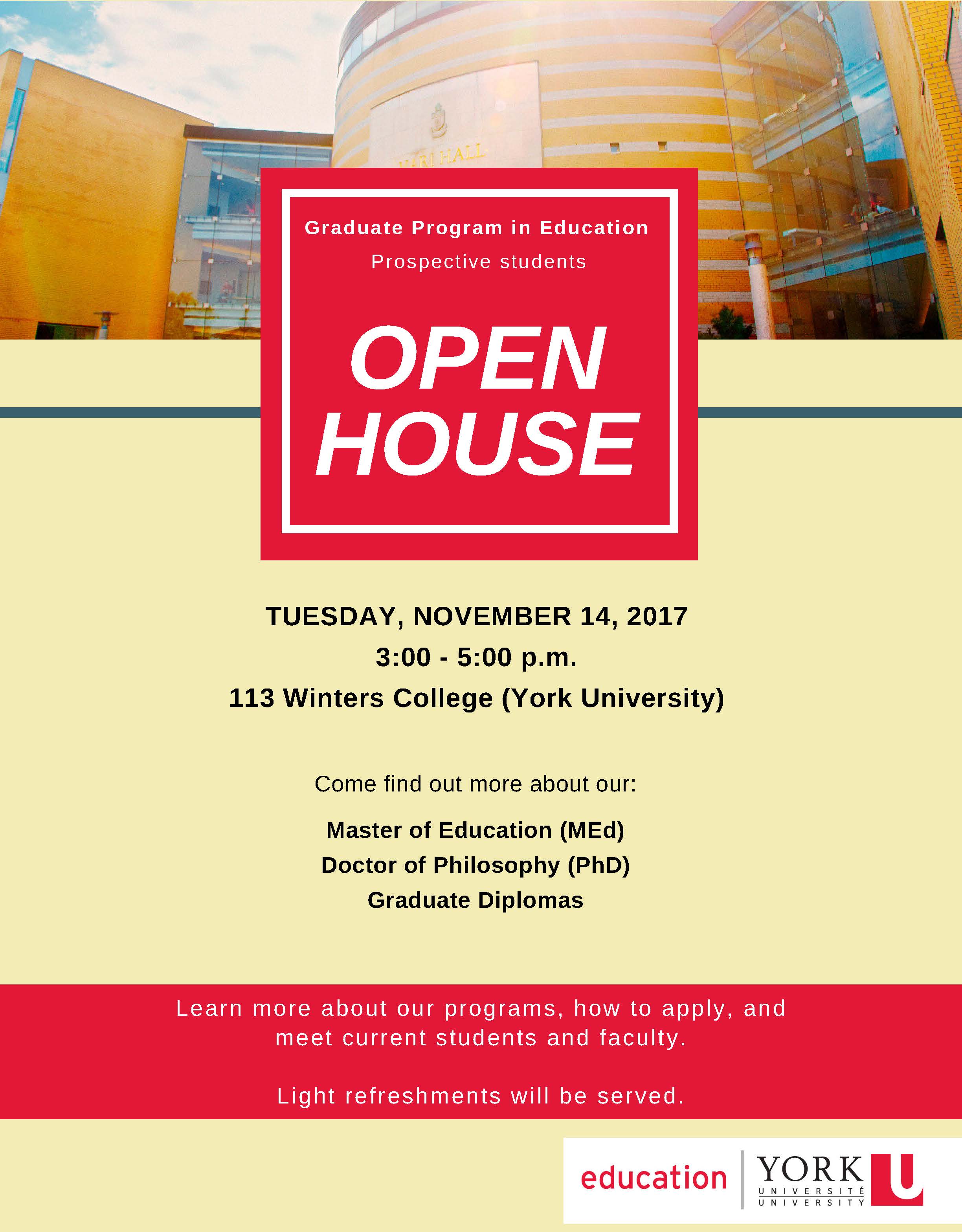 Values and Visions in Public Schooling - 4 provocative talks
Nov 14 @ 7:43 pm – 8:43 pm
This lecture series that examines the past, present and future of Canadian education will feature the expertise of York Professors Kathleen Gould Lundy and Steve Alsop, York Professor Emeritus Paul Axelrod and several York alumni. the series is sponsored by the Enoch Turner Schoolhouse Foundation.
By Education, I mean not the mere acquisition of certain arts, or certain branches of knowledge, but that instruction and discipline which qualify and dispose the subjects of it for their appropriate duties and employments of life, as Christians, as persons of business, and also as members of the civil community in which they live.
 Egerton Ryerson, Superintendent of Education, Upper Canada, 1847
-----
Ontario is committed to the success and well-being of every student and child. Learners in the province's education system will develop the knowledge, skills and characteristics that will lead them to become personally successful, economically productive and actively engaged citizens.
Ontario Ministry of Education, Achieving Excellence: A Renewed Vision for Education in Ontario, 2014
---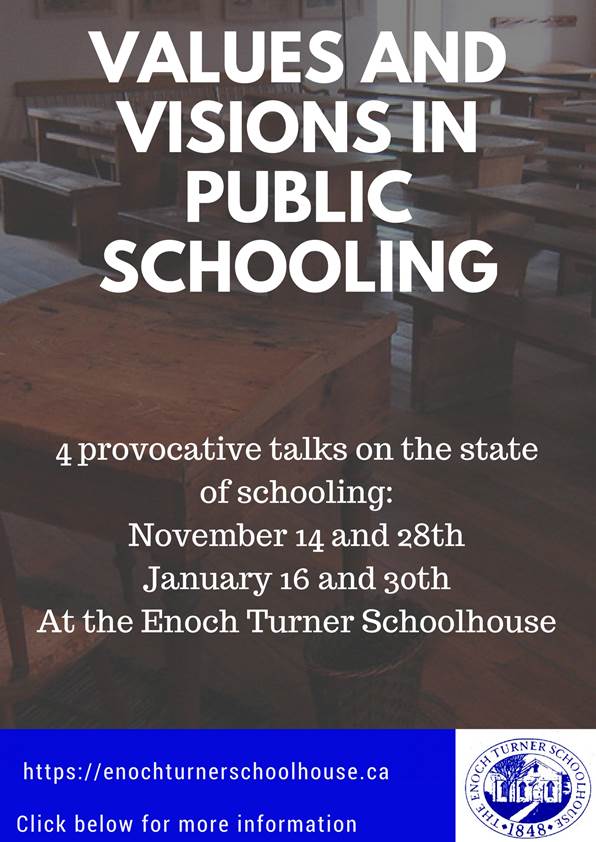 What is schooling for, and how have its goals changed over time? Do Egerton Ryerson's views of public education in the 19th century have any relevance today?
Are contemporary schools vehicles for creativity or conformity? Emancipation or repression? Diversity or division? Equality or inequity?
How have school design and architecture affected teaching and learning? Why do the arts matter in the classroom?
These and other questions are being taken up at a four-part series, sponsored by the Enoch Turner Schoolhouse Foundation in Toronto, which begins in November 2017 and will continue in January 2018. The sessions feature presentations and panel discussions on a range of educational subjects. The series (free of charge) is designed for a broad audience interested in the past, present and future of Canadian education.
Speakers include a wide range of educators, academics, and community leaders whose work, writing and community engagement have enhanced our understanding of the schooling world.
Session One - November 14, 2017
"What Are Schools For?" Annie Kidder, Executive Director of the advocacy organization, People for Education; Jonathan Kakegamic, Principal of First Nations Junior and Senior School of Toronto; and Steve Alsop, an environmental science educator at York University will kick off the series, with an interactive discussion of the aims of public education. The session will be chaired by historian, Paul Axelrod, who will set the context by recalling the origins of public schooling in Canada.
Session Two - November 28, 2017
"Designs for Learning: If the Walls Could Speak…" asks how educational design, architecture and the construction of schooling spaces reflect social values, community life, and the interests of neighbourhoods. Panelists are Brenda Webster, Manager of Planning at Waterfront Toronto; architectural historian, Shannon Kyles; educational historian and commentator, Josh Cole; and Martin Kohn, partner at Kohn Shnier Architects.
Session 3 - January 16, 2018
"From Segregation to Integration?"
Public schools, ideally, encourage cultural diversity, social cohesion and equality of opportunity. Panelists in this session ask how fully these goals are being realized. Willa Black, V.P Corporate Affairs and Social Responsibility at Cisco Canada, will chair the discussion which includes: Jane Griffith, a historian of First Nations residential schooling; Funke Aladejebi, who has written on the experience of African Canadians; and Julia Palm, a doctoral student exploring the lives of LGBTQ students and teachers.
Session 4 - January 28, 2018
"Why the Arts Matter"
The final session in the series demonstrates the value and dynamism of arts education. Kathleen Gould Lundy, an arts educator, leads a group of teachers who, through dramatic performances, illustrate innovative teaching techniques that inspire and engage students.
Through informed and critical discussions, the series probes the possibilities and challenges of public schooling. All sessions are being held at the Enoch Turner Schoolhouse, 106 Trinity St., Toronto, and begin at 7 p.m. Everyone is welcome.
For information on how to obtain free tickets, see https://enochturnerschoolhouse.ca/2017/10/11/enoch-turner-schoolhouse-foundation-presents/
Contacts:
Paul Axelrod – series coordinator – paxelrod@edu.yorku.ca | (cell) 647-808-2997
Leonard Knott – media contact – leonard.knott@gmail.com