Apr
6
Thu
Visions, Collaborations, & Transformations: The inaugural York University Graduate Student Conference in the Social Sciences & Humanities

@ Victor Dahdahleh Building, York University
Apr 6 @ 8:00 am – Apr 7 @ 4:30 pm
The inaugural York University Graduate Student Research Conference in the Social Sciences and Humanities (GSRC), titled "Visions, Collaborations, & Transformations", will feature two high-profile speakers during a two-day event, April 6 and 7. The conference, which is a special multidisciplinary event that aims to connect participants within the social science communities at York University and beyond, will present Kent Monkman as the keynote speaker, and Eddy Robinson as a guest speaker.
In addition to the featured speakers, the event will host an exciting Panel on April 7 from 9:15 to 10am titled "Putting Your Research To Work". It includes Michael Johnny and Krista Jensen (Knowledge Mobilization Unit, York University), Carolyn Steele (Career Centre, York University) and a number of graduate students (to be announced).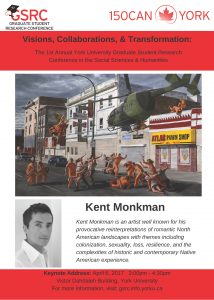 Registration for the Graduate Student Research Conference is now open. For more background on the event, visit this story.
For the full event program and the conference details, visit gsrc.info.yorku.ca.
The event is a pay-what-you-can admission (a suggested donation of $15 to $20), and registration includes two light breakfasts, two lunches, as well as a reception at The Underground on April 6. Registration also includes entry to panel sessions, Kent Monkman's keynote address, Eddy Robinson's speech and performance, as well as, the innovative and open space sessions.
Register online at gsrc.info.yorku.ca/registration.
Questions about the Graduate Student Research Conference can be sent to
gradconf@edu.yorku.ca. Follow news about the GRSC on Twitter @gsrc_yu.
Aug
31
Thu
Graduate Program in Education - Student Orientation

@ 519 Kaneff Tower
Aug 31 @ 9:00 am – 12:00 pm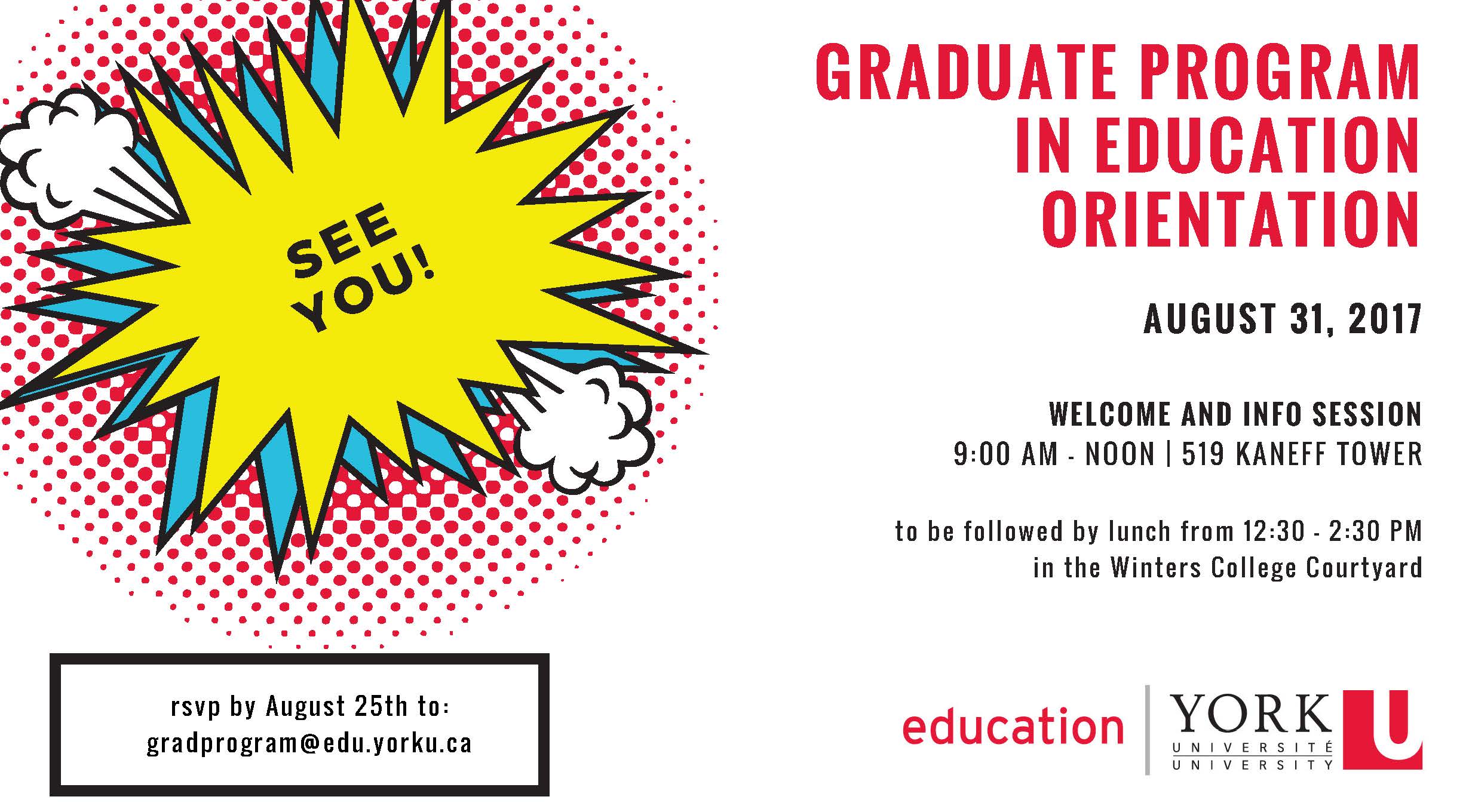 Nov
14
Tue
Graduate Program in Education OPEN HOUSE

@ Room 115 Winters College (Graduate Program in Education Office)
Nov 14 @ 3:00 pm – 5:00 pm
Interested in applying to the Graduate Program in Education? Join us for our annual OPEN HOUSE event for prospective students on Tuesday, November 14, 2017.
Come find out more about our:
Master of Education (MEd)
Doctor of Philosophy (PhD)
Graduate Diplomas
Learn more about our programs, how to apply, and meet current students and faculty.
Light refreshments will be served.