Nov
6
Mon
Why Race? Why Now?: Focusing Diversity in Higher Education

@ 305 Founders College
Nov 6 @ 12:30 pm – 4:30 pm
12:30 - 1:30 p.m. - Reception and Book Sale
2:30 - 4:30 p.m. - Formal talk with Q & A
Matthew Shenoda is a writer and professor whose poems and essays have appeared in a variety of newspapers, journals, radio programs and anthologies. He has been twice nominated for a Pushcart Prize and his work has been supported by the California Arts Council and the Lannan Foundation among others.
His debut collection of poems, Somewhere Else (Coffee House Press), was named one of 2005's debut books of the year by Poets & Writers Magazine and was winner of a 2006 American Book Award. He is also the author of Seasons of Lotus, Seasons of Bone (BOA Editions Ltd.), editor of Duppy Conqueror: New & Selected Poems by Kwame Dawes, and most recently author of Tahrir Suite: Poems (TriQuarterly Books/Northwestern University Press), winner of the 2015 Arab American Book Award and with Kwame Dawes editor of Bearden's Odyssey: Poets Respond to the Art of Romare Bearden(TriQuarterly Books/Northwestern University Press, 2017).
Shenoda teaches in the fields of ethnic studies and creative writing and has held several faculty and administrative positions at various institutions. Formerly the Assistant Provost for Equity and Diversity at CalArts he is currently the Dean of Academic Diversity, Equity, and Inclusion and Special Advisor to the President at Columbia College Chicago where he is also Professor of English and Creative Writing. Additionally, Shenoda has served on the Board of Directors of several arts and education organizations and is a founding editor of the African Poetry Book Fund. He lives with his family in Evanston, Illinois.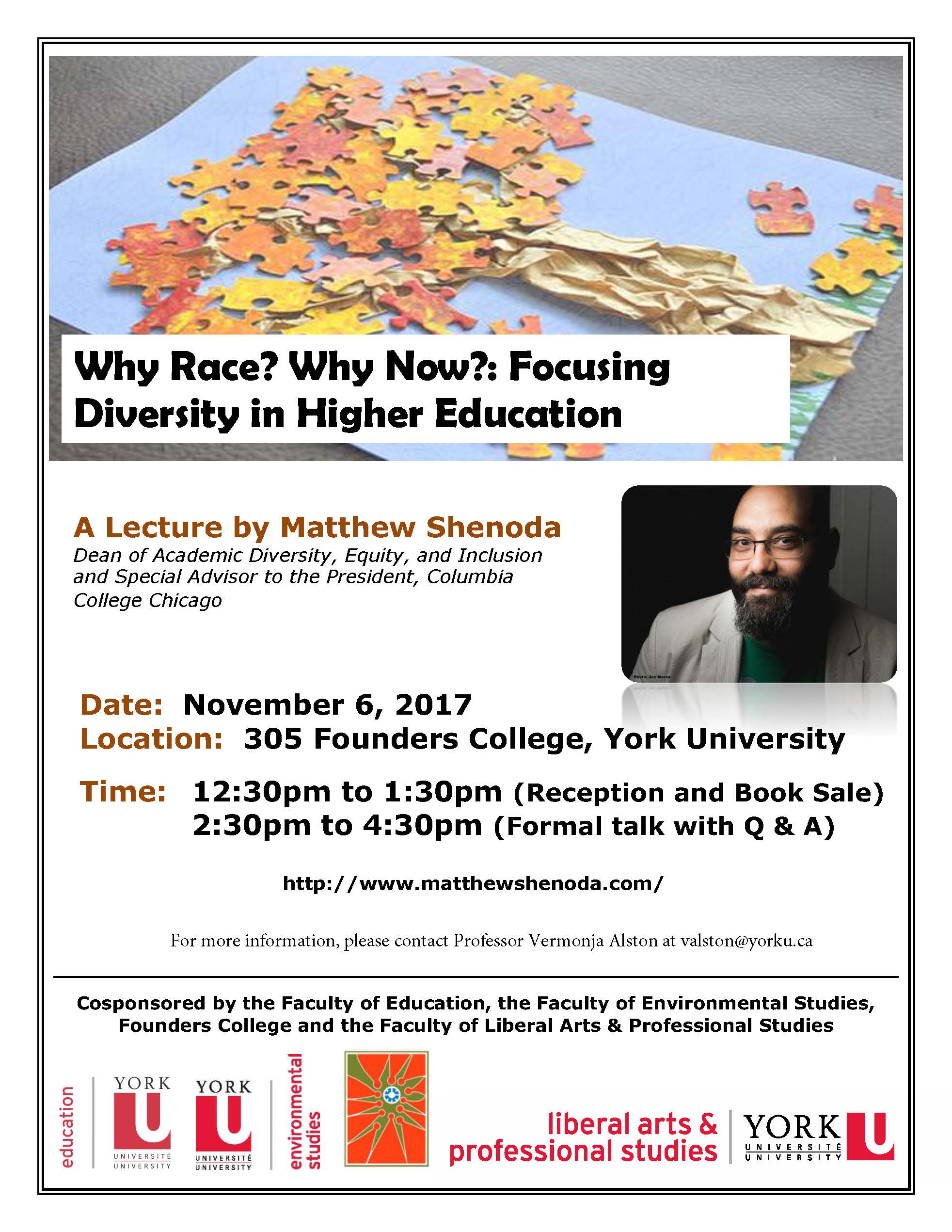 Feb
28
Wed
African Indigeneity and Finance

@ Warden Woods Community Centre
Feb 28 @ 5:00 pm – 7:30 pm
Please join us for a community forum on cooperative banks among racialized Canadians.
Supported by the Social Science Humanities Research Council (SSHRC) - an IDG project
Speakers:
Mr. Obed Asamany, Ghana Cooperative Susu Collectors Association
Dr. Caroline Shenaz Hossein, York University
Ms. Susan Henry, Alterna Credit Union
Ms. Ginelle Skerritt, Warden Woods Community Centre
This event is co-sponsored by: BUSO, Department of Social Science (York U), Tubman C=Institute for Research on Africaland its Diaspora, The Jean Augustine Chair in Education, Community & Diaspora (York U), Department of Humanities (York U), Warden Woods Community Centre, Alterna Credit Union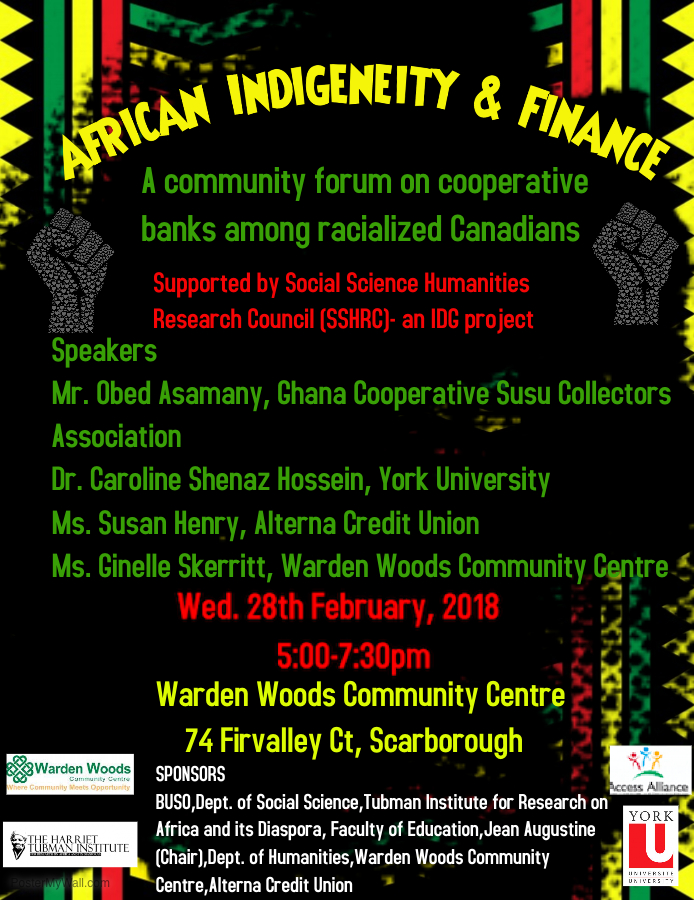 Mar
19
Mon
Science After Critique or Towards Postcritical Methodologies

@ Room 956 Kaneff Tower
Mar 19 @ 2:00 pm – 4:00 pm
Over the past thirty-five years, Professor Patti Lather has opened research in education to the theory wars, feminist pedagogy, and post-structural critiques of science. This research seminar considers some theoretical dilemmas of validity in qualitative research with the questions of what is it to do qualitative research in an unjust world and what happens to the idea of "science" in social science research after critique? Professor Patti Lather will be discussing her recently published volume on Post Critical Methodologies. The seminar is sponsored by Professor Britzman's York Research Chair in Pedagogy and Psychosocial Transformations and the Faculty of Education.