Jan
20
Sat
Teaching with Technology workshops

@ 3146 Victor Phillip Dahdaleh Building (formerly the TEL Building)
Jan 20 @ 8:30 am – 4:00 pm
Learn how to engage learners with technologies including SMARTBoard, Google Classroom, coding and robotics. Led by an experienced and Google-certified teacher, this hands-on workshop provides you with an understanding of how to develop lessons relevant to your teaching assignment using technology tools.
For further information and to register visit yorku.edu.eventbrite.com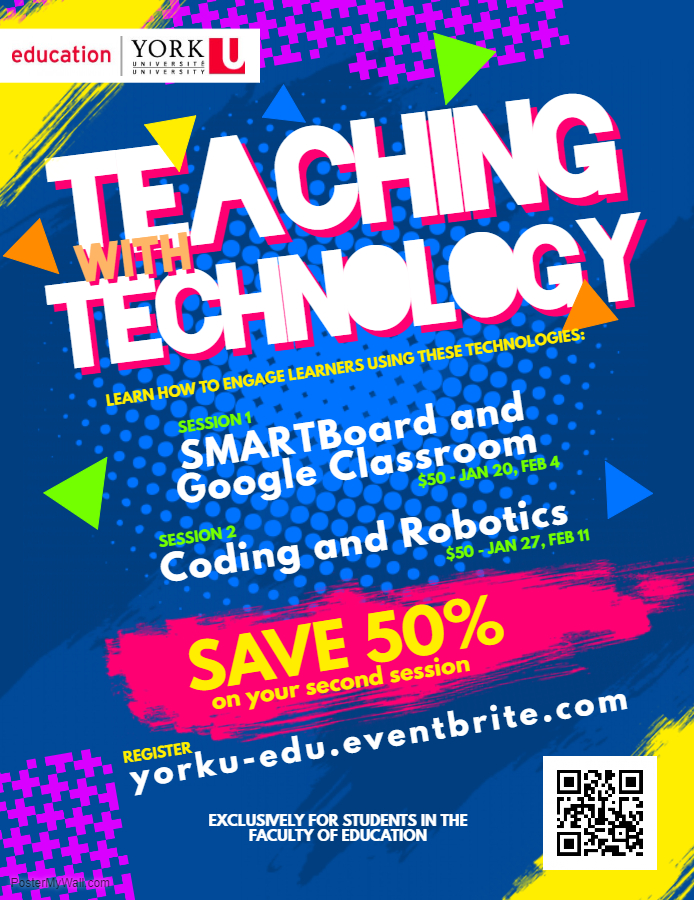 Feb
28
Wed
African Indigeneity and Finance

@ Warden Woods Community Centre
Feb 28 @ 5:00 pm – 7:30 pm
Please join us for a community forum on cooperative banks among racialized Canadians.
Supported by the Social Science Humanities Research Council (SSHRC) - an IDG project
Speakers:
Mr. Obed Asamany, Ghana Cooperative Susu Collectors Association
Dr. Caroline Shenaz Hossein, York University
Ms. Susan Henry, Alterna Credit Union
Ms. Ginelle Skerritt, Warden Woods Community Centre
This event is co-sponsored by: BUSO, Department of Social Science (York U), Tubman C=Institute for Research on Africaland its Diaspora, The Jean Augustine Chair in Education, Community & Diaspora (York U), Department of Humanities (York U), Warden Woods Community Centre, Alterna Credit Union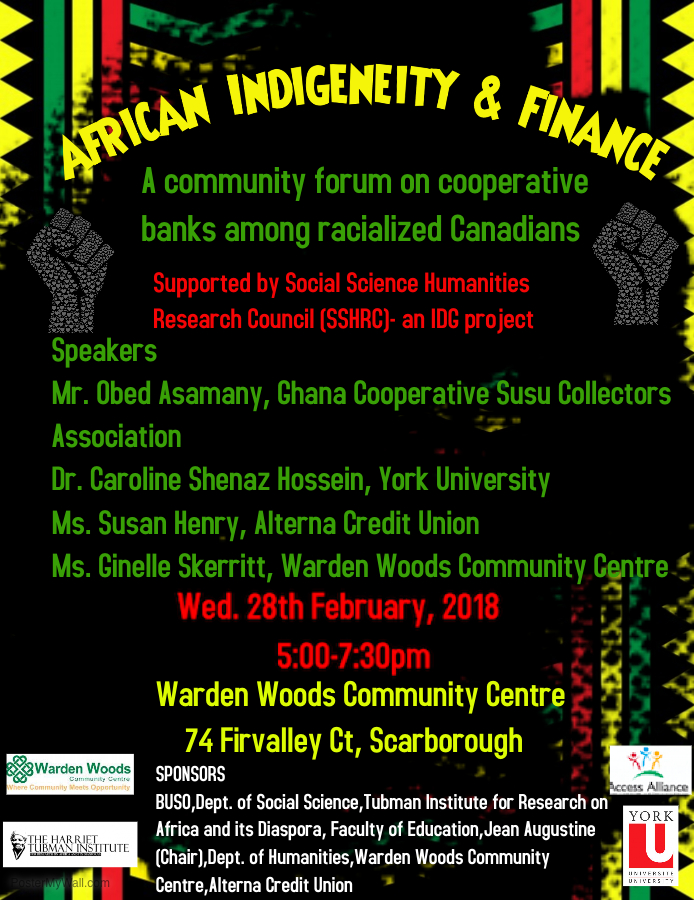 Mar
19
Mon
Science After Critique or Towards Postcritical Methodologies

@ Room 956 Kaneff Tower
Mar 19 @ 2:00 pm – 4:00 pm
Over the past thirty-five years, Professor Patti Lather has opened research in education to the theory wars, feminist pedagogy, and post-structural critiques of science. This research seminar considers some theoretical dilemmas of validity in qualitative research with the questions of what is it to do qualitative research in an unjust world and what happens to the idea of "science" in social science research after critique? Professor Patti Lather will be discussing her recently published volume on Post Critical Methodologies. The seminar is sponsored by Professor Britzman's York Research Chair in Pedagogy and Psychosocial Transformations and the Faculty of Education.