Jan
15
Mon
Orientations to Professional Practice: Conversations and Experiences

@ 3140 Victor Phillip Dahdaleh Building
Jan 15 @ 12:00 pm – 2:00 pm
Thes e workshops for Bachelor of Education students will engage teacher candidates in conversations and experiences specifically related to the complex dimensions of professionalism in the education sector.
Students who attend all three sessions will receive a certificate.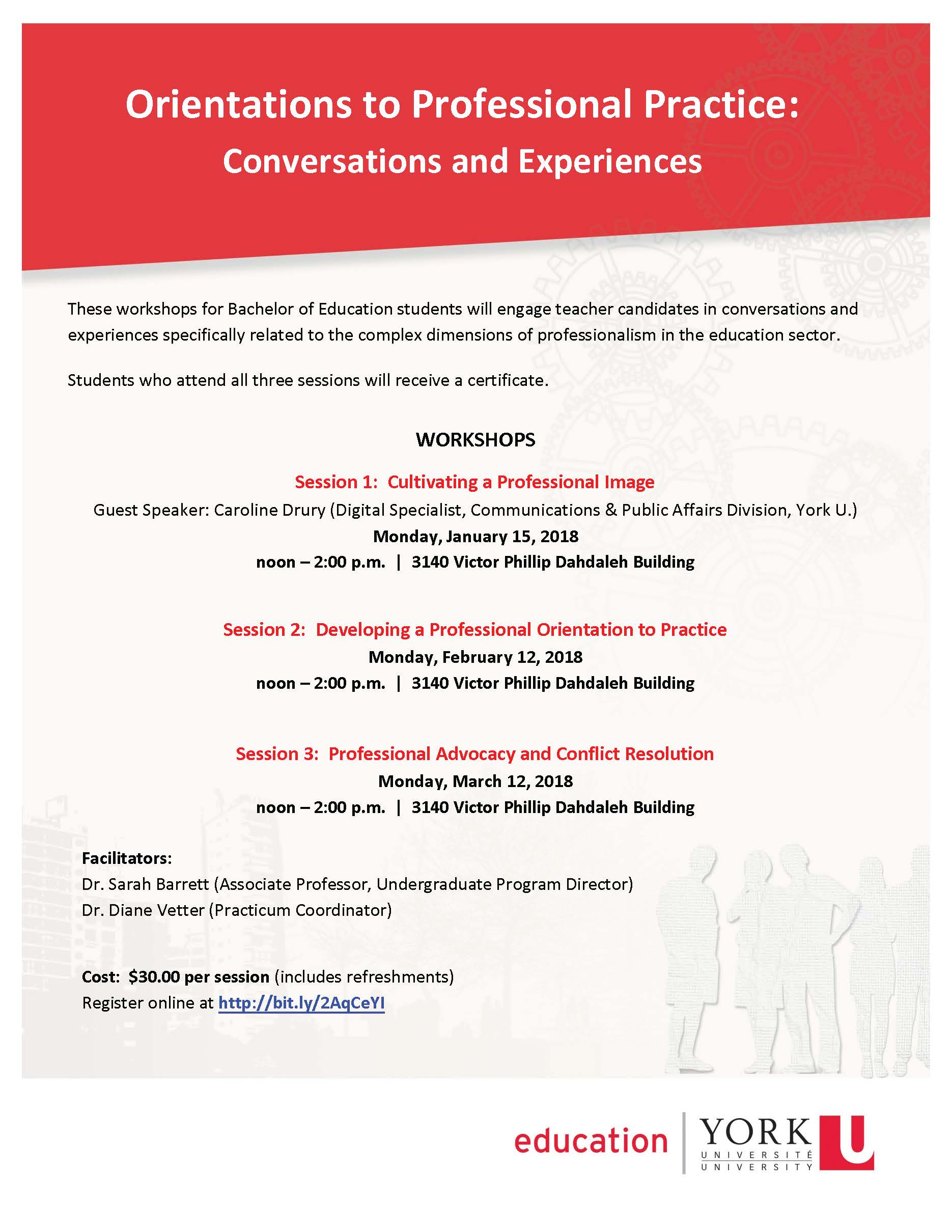 Jan
16
Tue
Professional Learning: Winter Blended Courses Start
Jan 16 @ 8:48 pm – 9:48 pm
Our first group of Winter courses begin today. Here are the details:
In class: Tuesdays (6:00pm to 9:30pm) January 16 to March 27, 2018 (excluding March 13) PLUS 65 hrs. online PLUS 25 independent assignment.
OR
In class: Wednesdays (6:00pm to 9:30pm) January 17 to March 28, 2018 (excluding March 14). PLUS 65hrs Online readings PLUS 25 hrs. Independent assignments.
Jan
20
Sat
Teaching with Technology workshops

@ 3146 Victor Phillip Dahdaleh Building (formerly the TEL Building)
Jan 20 @ 8:30 am – 4:00 pm
Learn how to engage learners with technologies including SMARTBoard, Google Classroom, coding and robotics. Led by an experienced and Google-certified teacher, this hands-on workshop provides you with an understanding of how to develop lessons relevant to your teaching assignment using technology tools.
For further information and to register visit yorku.edu.eventbrite.com