Feb
15
Thu
Everyday Activism, Critical Resistance: A conversation with Angela Robertson and Robyn Maynard facilitated by Dionne Brand

@ Tribute Communities Recital Hall, Accolade East Building, York University
Feb 15 @ 7:00 pm – 8:30 pm
In this conversation, award-winning poet, novelist and documentarian Dionne Brand engages in dialogue with Toronto social activist Angela Robertson, and Montreal community organizer and author of Policing Black Lives (2017), Robyn Maynard. Together they reflect on the ways in which in their activism, people of African descent resist the daily acts of gendered, classed and sexual racialization in Canadian society.
There will be a reception prior to the event from 5:30 to 7:00 p.m. in the Martin Family Lounge - Room 219 Accolade East Building.
Please rsvp by Monday, February 12th.
This event is sponsored by Unifor, The Jean Augustine Chair in Education, Community & Diaspora and the Faculty of Education.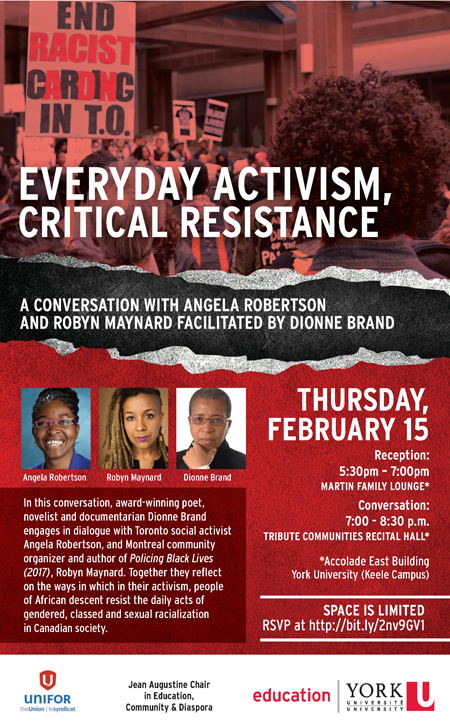 Brand was awarded the Order of Canada in 2017, and from September 2009 to November 2012 she was was Toronto's Poet Laureate. She was born in Trinidad and Tobago, and emigrated to Canada in 1970, and earned a BA at the University of Toronto in 1975 and an MA in 1989 from the Ontario Institute for Studies in Education (OISE).

Roberston, who earned an honorary Doctor of Laws degree from York University in October 2017, is a social justice activist and advocate for women's and low-income people's rights. She is also a York University alumna who has served in many roles including: editor of social issues manuscripts at Women's Educational Press, adviser to the Minister Responsible for Women's Issues, manager at Homes First Society and the Community Social Planning Council of Toronto, executive director of Sistering – A Woman's Place for more than a decade; and a directorship at Women's College Hospital. She is currently the executive director of Parkdale Queen West Community Health Centre.
Maynard

 a Black feminist who has spent many years researching and documenting racist and gender-based state violence. Much of her work has been frontline harm-reduction outreach work in Montreal, and she continues to provide training for health and social service providers on the harms created by systemic racism, criminal laws and stigmatization.
Feb
20
Tue
Creating an Inquiry Based Classroom
This 25 hour online module will help teachers develop a clear understanding of how to incorporate inquiry practices into their classrooms. Course starts on Feb 20, 2018 and ends on Mar 30, 2018
To register go to: https://pd.edu.yorku.ca/#/reg/course_search
Mentoring Certificate Course
This 36 hour online certificate course will provide practical advice, strengthen skills and widen and broaden perspectives of mentoring. Mentors are the heart of a learning-focused relationship. This certificate starts on Feb 20, 2018 and ends on Mar 30, 2018.
For more information go to: http://edu.apps01.yorku.ca/pdis/cert/
Conferences
Guest Speakers
Seminars at the Faculty