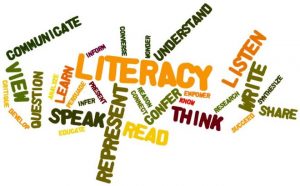 Three secondary schools from the Jane and Finch community—C. W. Jefferys, Westview Centennial and Emery—continue their partnership with York University's Faculty of Education and the York University Faculty Association (YUFA), to build up Readers to Leaders (R2L), a literacy enrichment program that serves to improve the literacy skills of high schoolers, preparing them for the compulsory Grade 10 Ontario Secondary School English Literacy Test.
Cohort demographics primarily consist of Grade 9's and 10's, but also sees participation from Grade 11's and 12's. Beginning in September, R2L will be open for Grade 8s as well to grant further opportunities to promote excellence in literacy for youth from the Jane and Finch community.
Marc Robinson-Weekes, a graduate assistant with York U's Faculty of Education and R2L, explains the program as a means to close achievement gaps in terms of literacy for secondary school students. "It prepares students for the Literacy Test in late March, so we do a series of activities and workshops designed to improve overall literacy skills on a day-to-day basis," he says. "That's one of the big parts of the program: seeing it in action."
Offered to students via each high schools' guidance and English departments, the annual R2L cohort attracts, on average, 30 students and begins at the end of September running for 20 Saturdays at York University.
"R2L provides students with an opportunity they would not necessarily have to continue building their literacy skills, even though they are not at school," says R2L Program Coordinator Nastassia Subban. "So it is kind of like extra lessons, but they get to be around other people and in a smaller ratio, which offers more support and help."
"When sessions first start, we get students to begin thinking in terms of literacy," Robinson-Weekes says.  "We don't want them to think of literacy as just reading and writing. R2L's ultimate value is to instead create a community in the classroom for students to support each other as learners. Because there are so many different activities, I think one of the positive things is students are able to learn from each other and really work together."
Some of the myriad of activities and group tasks offered in the workshops include: analyzing, and composing, opinion pieces; dissecting local and international news articles; breaking down listening activities as a group; and learning how to find meaning in short stories and non-fiction texts paragraph by paragraph.
The central theme of the program is to bring together and engage the community in relevant culture. One popular framework for developing literacy among last session's cohort was to discuss Afrofuturistic themes in culture and relate them to contemporary issues. R2L also studied similar themes in music facilitating some group work around hip-hop literacy.
The objective is to use the issues and content students would already normally bring into the classroom to further engage the group in literacy through discussion.
"We teach reading and writing strategies, as well as life skills," says C. W. Jefferys teacher Tamara Irons—also one of the instructors in R2L. "All of our material is culturally relevant and centres around the experiences of students from our community."
Another driving hope—in hosting the program in a university classroom—is to familiarize and engage students with the university environment. "Working with students from marginalized communities, a lot of them have a bit of hesitancy to being on a postsecondary campus," Robinson-Weekes says. "So we actively try to create that connection and relationship with that particular community just so students are comfortable and [motivated] to get their grades up."
"Students also learn that they are important and that their voices are valuable and necessary in shaping the world," Irons adds. "However, in order to be full participants of the global community, they have to be able to communicate. Reading, writing speaking and listening well are not only important because of school and tests; they are lifelong skills and cultural capital."
"I would say the focus is looking at literacy and engaging students in a meaningful way: through games, writing and media," Subban says. "It's a great way for students to prepare for the Literacy Test without 'teaching to the test'. It's getting them literate for the whole wide world."
As of 2018, the Faculty has thankfully received increased support from its partners in R2L, including the generous support of the Peter Gilgan Foundation, who enable the Faculty to provide this unique literary enrichment program.