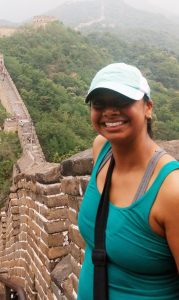 What school board are you affiliated with and what was your role there?
I am affiliated with the Toronto Catholic District School Board (TCDSB). Prior to coming to York, I was on secondment to the Ontario Science Centre where I was a teacher/presenter.
Why did you want to become a seconded faculty member at the Faculty of Education at York University?
I was interested in the opportunity to work with enthusiastic, up and coming teachers.  I wanted to be able to share my experiences with the teacher candidates as well as learn from them, what issues were important to them, what they were passionate about, and what they hoped to pass onto their future students.
Which courses are you presently teaching?
Content into Practice and Teaching Biology and Environmental Science in the Intermediate/Senior Classroom.
What excites you the most about teaching teacher candidates?
For me, it's when students begin to make connections and gain insight into what has been explored and discussed in the classroom and what they are seeing in their school placement(s).  Excitement for me begins when students realize what a significant difference they can make.
What has been the most surprising thing for you working at the Faculty?
I often talk to my students about the importance of collaboration and sharing ideas with each other.  Everyone is eager to share what they have learned and are open to each other's new ideas.
In 3 words, describe your experience working with York's Faculty of Education.
Elevating, inspiring, motivating
What advice would you give teacher candidates for their future teaching practice?
Take risks! Try new things, get out of your comfort zone and learn with your students.  You don't need to be the expert.  You should be a co-learner along with your students.
What inspires you to teach?
Knowing that education has the ability to change a student's life. I'm inspired to teach so every student has the opportunity to pursue their goals.
What would students be surprised to know about you?
I still get nervous when I'm in front of the classroom teaching.
What impact do you want your work to have on society?
If students are given the opportunity to be successful, they can be.  I want my students to have every opportunity and then to go out and create opportunities for others.
What do you see as the best thing about education today?
The mindset we have regarding teachers and students today.  The idea of teachers and students as co-learners and teachers encouraging their students to take risks, to think outside the box and to become critical thinkers.  As well as realizing the importance of diversity.  Students need to see themselves reflected in the curriculum.