French as a Second Language course director James Steele was invited to participate in the 2017 American Council of Teaching Foreign Language (ACTFL) Convention & World Expo held this past November in Nashville, Tennessee. More than 7000 second language K-12 and post-secondary educators from across Canada, the United States and around the world, attended the four-day event held November 17 – 20.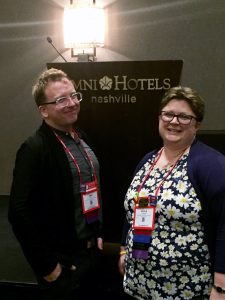 Collaborating with Nicola Townend (a German and French teacher from the University of Toronto Schools and Past President of the Canadian Association of Teachers of German), their presentation, Integrating Cultures and Pedagogies of Indigenous Peoples in our Classrooms, focused specifically on how to indigenize International Languages classes, with specific examples for the middle school and secondary school German classroom.
Steele reports that the presentation was well received by attendees and colleagues from the American Association of Teachers of German. "We are making excellent progress in working to expand our understanding of and best work with a variety of perspectives from First Nations, Métis, and Inuit histories and teachings. This is necessary for all subjects and at all age levels, including International Languages classes. There is much to be done and I know that I have much more to learn," says Steele. "Ontario educators and policymakers are helping to make a real impact in this vital area, and our presentation is a small contribution to this key area. I am grateful to the leadership and collaboration of my friend and colleague Nicola Townend for making this presentation a reality."
ACTFL is the largest event of its kind in North America in these subject areas with attendees teaching French, Spanish, German, Mandarin, Arabic, Italian, Japanese, Latin, and other languages.