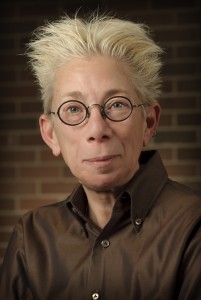 Dr. Deborah Britzman, Distinguished Research Professor and York Research Chair in Pedagogy and Psychosocial Transformations at York University, was appointed as a visiting lecturer in residence at the University of Alberta this past October 2-6, 2017. Over the week, Britzman presented the following three university-wide lectures, under the themes of Psychoanalysis and Education as a part of the University's Distinguished Visitor Lecture Series:
From Disaffected education to Disquieting Imagination: Thoughts on the fragility of reparation;
The Vast Unfinished business of the writing block: A psychoanalytic formulation;
Signifying Loss: A Psychoanalytic Paradox for Critical Pedagogy
In addition to these lectures that drew upon her current York Chair research, Britzman met with faculty and graduate students and taught a graduate seminar. The Distinguished Visitor Lecture series is a university-wide program at the University of Alberta.
Internationally known for her research in education and psychoanalysis, Professor Britzman is a Fellow of the Royal Society of Canada, and a Psychoanalyst in private practice. She is the author of over 90 research articles and 8 books, including A Psychoanalyst in the Classroom: Education as Human Condition (Albany: SUNY Press, 2015) and Melanie Klein: Early Analysis, Play and The Question of Freedom (Springer Press, 2016). Best known for her formulation of "difficult knowledge," her current research investigates the historicity of social toleration, the notion of the social bond, and mental health.