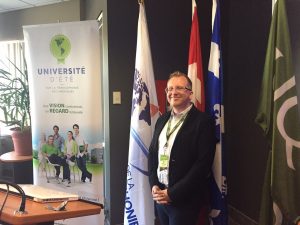 French as a Second Language course director James Steele was one of 40 participants from across the Western Hemisphere chosen to take part in the fifth edition of Université d'été sur la Francophonie des Amériques (Summer University on the French-speaking Regions of the Americas), a graduate level seminar for Masters and doctoral students, professionals, and journalists. The fifth edition of the summer program, presented in collaboration with the University of Québec at Chicoutimi and the University of Moncton was held in Saguenay from June 5-11, 2017.
The multidisciplinary program was made up of conferences, workshops, and site visits that allowed participants to see the multifaceted nature of the Francophone communities of the Americas in a new light.
"Our curricula tells us which parts of the Francophone world we need to share with our students and in which years, but how do we do this in purposeful and relevant ways and how do we integrate authentic and meaningful information about Indigenous peoples and cultures across the Americas? It's a big task for educators to address these perspectives so I wanted to be a part of this institute to experience and learn how to do this."
During his time in the Chicoutimi-Saguenay region, James attended workshops, graduate seminars, visited First Nations communities, and participated in panels with peers from Guatemala, Brazil, Haiti, French Guiana, Costa Rica, Cuba, the USA, and across Canada.
"My goal was to bring back a stronger understanding of the French-speaking regions across the Caribbean, and North, Central, and South America to our students at York," Steele said. "I'm looking forward to doing this in my classes with my students in the upcoming academic year."