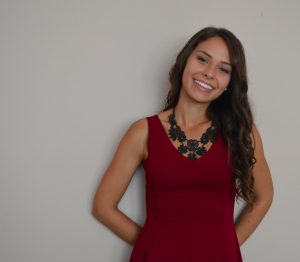 Second year Master's student Sanja Vujinovic's research interests are cross-listed to linguistics and centre on language education. She is presently conducting an auto-ethnographic feminist study that examines the impact of perceived foreign accents on the professional career of adult immigrant women in a Canadian context. The study addresses the question, what role does accent play in intelligibility and comprehensibility of adult immigrant women in the workplace?
"Recent trends in language instruction have begun to shift away from achieving a native-like accent and towards a focus on intelligibly and comprehensibility," she says. "However, a subset of learners continues to feel discriminated against due to their perceived foreign accents. This may be the result of a listener bias in favour of familiar accents, leading language learners to feel the pressure to adhere to a native-like linguistic fluency, which is nearly impossible for some to achieve." The study will address this concern and will make some recommendations.
Sanja is presently employed as a teacher with the York Region District School Board (YRDSB) and says that her coursework and research have helped to strengthen her professional practice. She also comments that the flexible and open nature of York's MEd has been extremely beneficial. "I'm able to attend evening classes after work, and I had the choice of completing coursework, a Major Research Paper or a thesis," she says. "Other universities require that you declare which stream you are doing in advance of taking courses. At York, my professors encouraged me to explore the courses before making a final decision on a particular stream. Additionally, I was able to choose a research topic that was of interest to me, instead of merely aligning with the vision of the university."
Her advice to prospective students interested in the program is to take a variety of courses outside of their research interests. "Some of the courses that I have benefited from the most are the ones that allowed me to explore a new area and discover new research interests," she commented. "Interacting with as many professors and students as possible also helped me broaden my professional knowledge and experience."
Sanja plans to continue her studies at the doctoral level with the hopes of cultivating a career in research.
To find out more about the Graduate Program in Education in the Faculty of Education, please visit http://edu.yorku.ca/academic-programs/graduate-studies/.