This past November, teacher candidates at the Regent Park site participated in a drama workshop to explore sustainability issues and global citizenship through a social justice lens. The workshop, which was presented by Sarah Papoff from the Council of Drama and Dance Educators (CODE), provided the students with an opportunity to explore how they could use drama in their future teaching practice(s) as a creative and effective way to explore global issues with their students.
"We explored how and when we might use particular drama conventions that lend themselves to this work," said course director Vidya Shah. "We then unpacked systemic ideas like power and privilege through dramatic games and activities inspired by the work of Augusto Boal and Theatre of the Oppressed."
The students participated in drama activities including flocking, mirroring, and image theatre to explore the intersections of colonization, racism and environmental degradation in the context of the proposed pipeline in Standing Rock, North Dakota.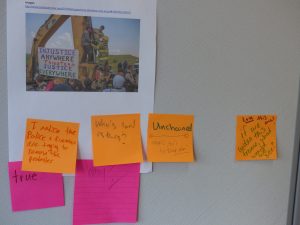 "Through photos, discussions, and theatre, Sarah led us into the world of Standing Rock," said teacher candidate Katharine Lewis. "At points, I felt like I was actually there. Our group created tableaus based on real scenes from the area of the proposed North Dakota Pipeline, which was much more difficult and complex to do than I thought it would be."
Throughout the workshop the students also discussed how notions of multiple and contradictory perspectives, environmental activism and solidarity could influence change in specific global issues.
"Sarah's presentation was phenomenal. Her energy, passion and commitment to student learning was evident throughout the workshop," said teacher candidate Colleen Weir. "She got us on our feet and inspired us to (re)consider the vital role the arts can play in all areas of the curriculum. Thanks to Sarah, I used 'flocking' to kick-start our unit on forces causing movement. My students loved it!