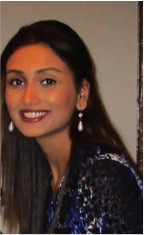 What year of the program are you in?
I am currently in the second year of the Master's of Education program.

What are your research interests?
My research interests are in science and education and the influence of technology on 21st century learning. My undergraduate career in sciences and being a science educator has stemmed my interest to learn more about the education system and practices through a scientific theoretical framework.
What type of research are you presently doing?
I've started to write my Major Research Proposal on the topic "How does bias in science textbooks impact the science education and career options of students". The paper will address various issues that are intertwined such as special education, disability, racism, gender discrimination and stereotypes that influence a students' interest in science and future occupations.
What has your experience been like to date in the Graduate Program in Education?
My experience in the  program has been extremely rewarding personally, professionally and academically. After becoming a certified teacher and gaining some practical experience, I wanted to learn more about the education system and that is what drew me to this program. I'm proud to be involved with the Faculty of Education as a graduate assistant, helping new students in the B.Ed program achieve success. I now work as an occasional teacher for one of the school boards and am enjoying the flexibility of working in my profession of choice while continuing my education. This allows me to enjoy both of my passions of teaching and learning, as I believe that it is important to be a lifelong learner.
What do you like most about the program?
One of the main things that I like about this program are the small class sizes that allow for more focused discussions and the sharing of opinions with my peers. The interaction between professors, teachers and other students also allows for greater networking and optimal learning to occur.
The  program has also allowed me to pursue both my academic and personal interests as most classes are offered in the evening allowing me to work during the day. The many resources and learning opportunities such as seminars and conferences that the Grad Program has hosted have helped me to improve my teaching practice as I learn more about policy, curriculum and research practices in education from a theoretical and psychoanalytical framework.
What advice would you give to prospective students interested in the program?
My advice to prospective students would be to become involved in as many conferences and grad council initiatives as they can as they provide countless opportunities for networking and learning  about research practices.
What are your future career aspirations and how do you feel that the Graduate Program is preparing you to achieve those goals?
My future career aspiration is to be a high school teacher and to continue my passion for research and personal growth by pursuing a PhD so that I can contribute to the ever-changing field of education.