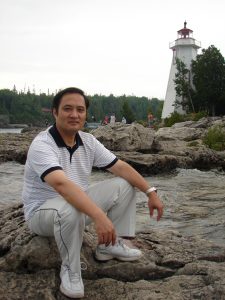 How long have you been at York University?
I joined the Faculty of Education on July 1, 2006. Before that, I had been doing my doctoral studies at the Ontario Institute for Studies in Education at the University of Toronto (OISE/UT) since 2000. Prior to my studies there, I worked in the government sector in China for 10 years in the Province of Anhui, where I held the portfolio for international education programs in the Provincial Department of Education.
What attracted you to a career in the Faculty of Education, York University?
I was attracted to the fact that York University had been becoming a hub that connected the city, the region and the nation to global flows of people and knowledge. The University, together with its Faculty of Education, enjoys a reputation as being an institution that values and promotes people-to-people communications, including cross-cultural communications, which is what education is all about.
What is your area of research and how can it have an impact on society?
My research interests include Chinese and East Asian higher education, international academic relations, global brain circulation, internationalization of higher education, globalization and education, differentiation and diversity in higher education, theories of organizational change, knowledge transfer and commercialization, and international migration and development.
What is your educational and professional background?
I completed my PhD in Higher Education in 2006 at OISE/UT. Prior to my doctoral study, I had an MA (Comparative Education, Institute of Education University of London, UK) in 1994 and a BA (English Language and Literature, Anhui University, China) in 1987. I just finished my term as Co-Chair of the Higher Education Special Interest Group, Comparative and International Education Society (CIES). I also hold adjunct professorships in a number of Chinese universities, including Tianjin University (Tianjin), Nanjing Normal University (Nanjing) and Fudan University (Shanghai).
If you had to give one piece of advice to students in our Faculty, what would it be?
In this era of globalization (which I view as sort of an ideology) and internationalization (which I see as a strategy), students need to develop and equip themselves with an intercultural and a comparative perspective on teaching and learning (i.e. an awareness of different epistemic traditions and an understanding of their complementary strength).
What is one interesting fact about yourself that you want people to know?
Chinese cuisine is both famous and popular. Presumably the Chinese like cooking and enjoy it as a piece of art. At least I am not an exception, and I do spend a lot of time cooking for my family and friends. As a result, my cooking skills keep improving to the extent that my daughter said to me one day, "Dad, if you open a restaurant, I'd like to eat there for a lifetime." This is a great compliment from her, but she's actually been eating my cooking all these years—not paying a penny. In my spare time I also like to drive to small towns in Southern Ontario to observe authentic Canadian lifestyle. A couple of things on my bucket-list are to learn both French and Chinese calligraphy.