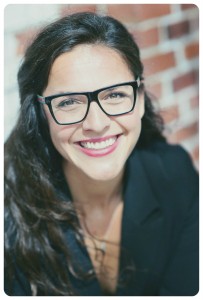 Third year doctoral student Michelle Sengara's work examines the relationship between student performance and social, teacher, and cognitive presence. Her doctoral research entitled "Designing Supportive Blended Learningscapes" is a quantitative study looking at potential correlations between course grades and student perceptions of presence. In her research she addresses the issue of student readiness for blended programs (a skills gaps around self-regulation and tech proficiency); examines the role of social presence on Learning Management Systems like Moodle (looking at connectivism and networked constructivism); and the role of administration is supporting the cultivation of the communities of inquiry necessary for 21st century workplace success.
"My research interests lie in the design of communities of inquiry within technology-enhanced learning spaces," said Michelle. "More and more of our educational expectations from primary through to higher education, involve the use of technology platforms (web-based or LMS) as a medium for communication and collaboration. How do students connect in these spaces? Connect to course content, to peers, and/or to their instructor? How do these perceptions of connection influence student's course outcomes (grades)? Lastly, how can we design courses and skills development training (for both students and teachers) that reflect the importance of these connections online?"
She credits the Graduate Program in Education for affording her the space and mentorship necessary to push herself outside of her comfort zone and to challenge her own ideas and perceptions of educational "best practice" in online spaces. "The depth of resources available to you as a graduate student continues to amaze me with each new year," she says. "Coming from the M.T. program through OISE/UT, I was pleasantly surprised by York's trans-disciplined perspective. I was encouraged to explore a doctoral thesis that crossed two distinct research centres (YCEC and IRDL). This more flexible approach encouraged me to be more creative with my research."
Michelle hopes to continue to teach new teachers in the Faculty's pre-service program and to travel to other pre-service programs around the world to expand the education of new teachers to include strong pedagogical strategies with digital technologies.