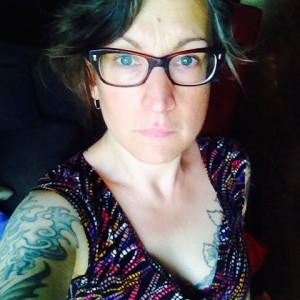 How long have you been at York University?
I've had a long and rewarding relationship with York University, first coming here in 1997 as a visiting student from just down the road, where I was doing my MA at OISE. As a visiting student, I took a graduate course in the then newly envisioned Graduate Program in Language, Culture, and Teaching and a year later came to York full-time as a Doctoral student in that same program. I joined the second cohort of Doctoral students – there were only 5 of us! I completed my Doctorate in 2003 and stayed at York to undertake a two-year SSHRC Postdoctoral Fellowship in Communications and Culture. I was hired as a Professor in the Faculty of Education in 2005. It is such a rewarding experience to teach in and contribute to the program that shaped my own intellectual life. I am now also cross-appointed to the graduate programs in Gender, Feminist and Women's Studies, and Social and Political Thought. These opportunities for interdisciplinary collaboration are a big part of what drew me to York as a graduate student!
What attracted you to a career in the Faculty of Education?
While my academic training began in women's studies and the philosophy of science, and moved into cultural studies, my preoccupation with theories of knowledge and a desire to better understand relations of representation led me to education. It seems a too well-kept secret that scholars of pedagogy and curriculum are among the most sophisticated and creative thinkers on these questions – what are the qualities of our encounters with knowledge? How does knowledge change us? What are the implications for experience and understanding of different modes of representation? York's Faculty of Education is a remarkably special place to study, teach and learn about these kinds of questions. I can't think of another Faculty of Education where education is explored through such a diverse range of theoretical frameworks, through both the humanities and the social sciences, and through the complex relation between theory and practice, whether in the classroom, the community, or culture at large.
What is your area of research and how can it have an impact on society?
For the last ten years, my research has primarily focused on the proliferation of community-based media projects as a tool for development and advocacy in communities that are socio-economically marginalized and systemically under- or mis-represented in dominant stories and popular cultures. The creation of multimedia stories in these projects takes many forms, including photovoice, participatory video, and digital storytelling, and is used to document personal and community life, and to intervene in socio-political discourse. I'm particularly interested in what participants learn about themselves, that they might not have known in advance, by experimenting with creative self-representation. This research has implications for classroom pedagogy that draw on the lessons offered in de-institutionalized and community-based contexts, an angle that I explore with co-authors Bronwen Low and Paula Salvio in our forthcoming book Community-Based Media Pedagogies: Listening in the Commons (Routledge, 2016).
If you had to give one piece of advice to students in our Faculty, what would it be?
Don't confuse openness to new ideas with a lack of focus. Stay open to being changed by what you encounter here, embrace the 'liberating constraints' of your program, and focus on finishing what you've started.
What is one interesting fact about yourself that you would want people to know?
It is my dream to raise a big flock of chickens! Downtown Toronto is not quite ideal for this… stay tuned.