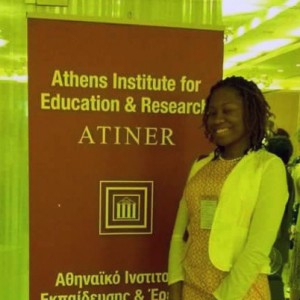 2nd year PhD student
Research interests:
Multiliteracies Pedagogy; Socio-cultural approach to Second Language Learning; Social Justice; Culturally Responsive Literacy Teaching
What book have you most recently read? What did you think about it? 
I recently read The Truth about Stories  by Thomas King.  My supervisor, Nombuso Dlamini, assigned it to all her graduate students for us to discuss in one of our monthly meetings. I was intrigued by King's prose and articulation and made a promise to myself to one day be as articulate as him. Additionally, I was impressed by his effective use of narrative inquiry to describe his lived realities. Finally, in doing justice to the post-modern approach, King clearly highlighted that there was not one single truth to stories. The latter resonated with me and I strive to keep that in mind when I write.
Favourite thing about York/Grad Program in Education?
I think York provides a platform for students to signal their different identities and subjectivities.  I fell in love with York during my first week when I witnessed all the festivities hosted by the different residences. More specifically, I felt at home here while walking past Winters College and I heard some loud Jamaican music during the same week.
What are you working on now?
I am trying to complete the second draft of my proposal. I hope to complete the proposal by the end of summer.
What are you hoping to do in the future?
I am exploring different possibilities. However, I would really love to work at UNESCO or UNICEF for a few years before teaching.