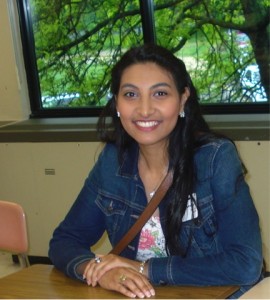 Graduating MEd student 
Research interests:
literacy, equity, standardized testing, access, resources, income, social & cultural capital
What book have you most recently read?
I'm reading Malala Yousafzai's memoir I Am Malala: The Story of the Girl Who Stood Up for Education and was Shot by the Taliban. I very much like what I have read so far, and appreciate the way she provides the context and history of her homeland, and the way particular events unfolded.
Favourite thing about York/Grad Program in Education?
Professors are encouraging and supportive, and do their best to help students out. Everyone feels overwhelmed at some point, so don't be afraid to ask for help!
What are you working on now?
I've been working on an epic novel since high school. Maybe I'll write another chapter this summer.
What are you hoping to do in the future?
I'm considering several avenues-- they include school board administration, writing, and teaching (of course!).