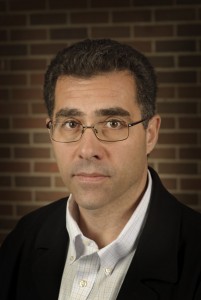 How long have you been at York University?
A long time. I began full-time studies as an MEd student in our Faculty in 1995.
What attracted you to a career in the Faculty of Education?
The teaching relationships and school-based research I developed during my time as a graduate student and then as contract faculty have always been important to me. As tenure-stream faculty, I'm now in the privileged position of being able to pursue them.
What is your area of research and how can it have an impact on society?
I'm fascinated at the interface of mainstream schools and minority families. The relationships between these families and their children's teachers and schools – in all their richness and complexity and dysfunction – is at the center of my research. I intervene in these relationships with a view to understanding and supporting them.
What is your educational and professional background?
I did a combined undergraduate degree in English and Political Science at McMaster University. My first graduate degree was also from McMaster, an MA in English with a focus on modern American and British fiction. I was then certified as a Teacher of English as a Second Language at Humber College. After working as an adult educator for several years, I returned to graduate studies, this time in the Faculty of Education at York where I completed an MEd and PhD. After several years as contract faculty, I was hired to a tenure-stream position in 2007.
If you had to give one piece of advice to students in our Faculty, what would it be?
Get your money's worth! Post-secondary studies is not just about completing courses and getting a piece of paper at the end. It's about taking advantage of the many academic and social activities that can make you a better person – everything from serving on committees, to reading with peers, to participating in conferences, to writing in public spaces.

What is one interesting fact about yourself that you want people to know?
Notwithstanding the self-indulgences of Finnegan's Wake, James Joyce remains perhaps my favourite author. Huston's film adaptation of Joyce's The Dead is superb.