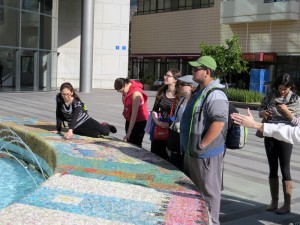 A group of students in the Faculty of Education's innovative Jewish Teacher Education program embarked on a journey of a lifetime to Israel as a part of the Teaching Voices of Israel elective course. The course, which is offered in cooperation with the Hebrew University of Jerusalem, provides students with a unique situated learning opportunity through an intensive 9-day seminar in Israel combining philosophies and methodologies of formal and informal Jewish education with on-site experiences. The group was the 8th cohort to participate in the course and the trip to Israel this past December.
"The main objective of the trip is to provide opportunities for teacher candidates to encounter and engage with pluralistic samplings of 'Voices of Israel'," said Professor Laura Wiseman who co-teaches the course with a colleague from Hebrew University of Jerusalem. "This includes 'voices' of local populations, immigrants and established inhabitants; children and adults from a variety of backgrounds; as well as media voices, literary voices, and same level teacher education peers at Hebrew University of Jerusalem."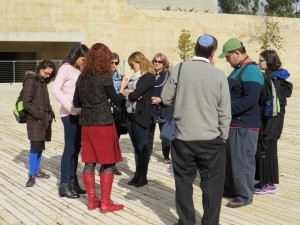 The exposure to a variety of authentic Israeli voices and experiences gave teacher candidates an in-depth understanding of a variety of facets of Israel and helped them develop a network of human connections and resources in order to inform their future teaching practice. The course also provided TCs with a number of invaluable learning strategies for the teaching of Israel. Participants discovered ways to present aspects of Israeli culture through a mixture of academic sessions, situated learning opportunities and experiential sessions, all of which were done in Hebrew, at a variety of locations across Israel. One of the highlights of the academic sessions was a text study retreat with Scholar Judy Klitsner who facilitated sessions on subversive sequels: narratives in the Bible that mine and undermine each other.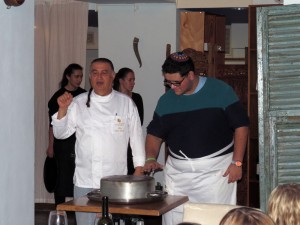 TCs also participated in experiential sessions to gain a deeper understanding of Israel from both a historical and present day context. A trip to a local film school where graduates produce short documentaries and trigger films was a forum to reveal and challenge aspects of Israeli culture and Judaism. A visit to the grounds of Yad Vashem Holocaust Museum and Research Centre was an opportunity to analyze three-dimensional sculptures and memorials and their educational messages. And, a visit to the home and organic farm of chef Hedai Ofaim provided a lesson in the culinary history of Israel. Other highlights of the trip included a photography walk through the marketE k (li tz and Orit Rozin, el scholars to York University, raphy and history of garbage dump has been turned into a lush park; to the Old City (students brought back disks of photos to use in their teaching); a tour of the recycling plant where a former garbage dump has been turned into a lush park; and lectures at Bar Ilan and Tel Aviv Universities, with Yosef Katz and Orit Rozin, former Visiting Israel scholars to York University, on aspects of Israeli demography and society. Students also gained familiarity with some of the educational issues in Israel by examining aspects of the three major Israeli school systems.
"This trip has taught me about the different narratives that encompass Israel. There is no right or wrong point of view to the story of Israel, rather a wide array of emotions and situations," said Carrie Bettel, a Hillel International intern in Informal Jewish Education. "As educators, we need to educate ourselves on a variety of different topics in order to demonstrate to others that understanding Israel cannot be done with simple black and white responses; rather, there are shades of grey that must be considered when talking about Israel today."