News & Events
Jan
15
Mon
Professional Learning: Winter Blended Registration Deadline
Jan
20
Sat
Teaching with Technology workshops

@ 3146 Victor Phillip Dahdaleh Building (formerly the TEL Building)
Jan 20 @ 8:30 am – 4:00 pm
Learn how to engage learners with technologies including SMARTBoard, Google Classroom, coding and robotics. Led by an experienced and Google-certified teacher, this hands-on workshop provides you with an understanding of how to develop lessons relevant to your teaching assignment using technology tools.
For further information and to register visit yorku.edu.eventbrite.com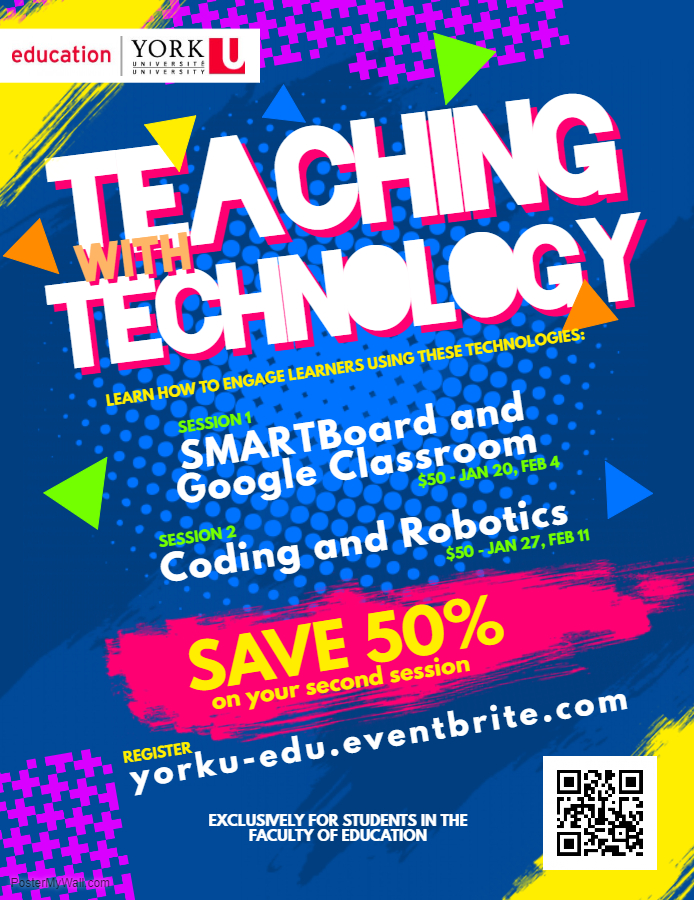 Jan
25
Thu
Inclusion Day 2018 - Decolonizing Community and Curriculum

@ Tribute Communities Recital Hall, Accolade East Building, York University
Jan 25 @ 11:00 am – 2:00 pm
The Centre for Human Rights, Equity and Inclusion invites you on Thursday, January 25, 2017 to York University's 9th annual Inclusion Day events focusing on the theme of Decolonizing Community and Curriculum.
Phil Fontaine OC, OM, will deliver a keynote address on "Decolonizing Community: Laws, Institutions, and the Reconciliation Objective."
Following a short lunch break (refreshments provided),  Professor Kathleen Mahoney FRSC, QC, will moderate a panel discussion on "Decolonizing Curriculum: Aspects and Action." This panel features experts in education, dance, community activism, health, environmental sciences, and engineering. Course Director Ixchel Bennett from the Faculty of Education will be one of the featured panelists.
This event is free of charge and is open to all who are interested in participating in this important conversation.
Space is limited, and we encourage you to register for the event at http://bit.ly/2jxcqTk