News & Events
Mar

28

Tue

Reading in the University: A Collegial Conversation about Les Back's "ACADEMIC DIARY" @ 030 Winters College (York University)

Mar 28 @ 12:00 pm – 2:00 pm

Join faculty colleagues from across campus for a discussion about teaching (and their other) experiences at York University.

Dr. Les Back will facilitate the conversation in relation to his book, Academic Diary: Why Higher Education Still Matters.

A light lunch will be served.

RSVP to Celia Park-Cho at CPark-Cho@edu.yorku.ca by March 7th for a free copy of the book,  Academic Diary, and by March 21st for lunch at the event.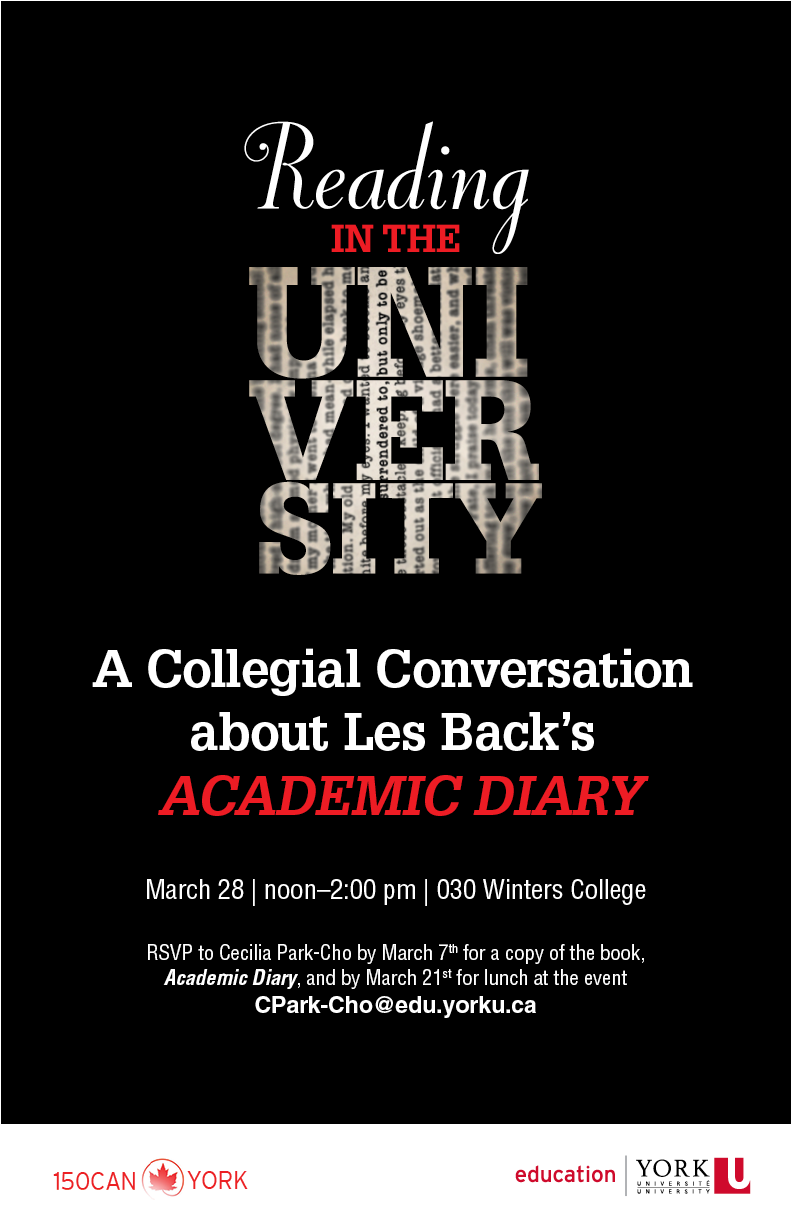 Film Screening - Colonization Road @ 280N York Lanes

Mar 28 @ 2:30 pm – 4:30 pm
Please join us for a screening of the film Colonization Road, a 50 minute documentary on Canada's colonial past told through interviews, comedy & the voice of host Ryan McMahon.
In towns throughout Ontario, there are startling reminders of the colonization of Indigenous territories and the displacement of First Nations people. Anishinaabe comedian and activist Ryan McMahon takes us to his hometown of Fort Frances and down its main drag, which is called Colonization Road. Similar streets have similar names in towns and cities across the province, direct reminders of the Public Lands Act of 1853 and its severe impact on First Nations, their treaties and their land in the name of "Canadian settlement." On his journey through Ontario, McMahon explores the history of these roads, meets with settlers in solidarity and raises significant questions about "reconciliation" and what it means to "decolonize."

Featuring: Pam Palmater, Hayden King, Jeff Denis, Cuyler Cotton, Chief Erwin Redsky, Lee Maracle, Teika Newton, Al Hunter, Heidi Bohaker Rod McLeod, Daryl Redsky, Linda Redsky, Janis Redsky, Leanne Simpson, Niigaan Sinclair, Doug Williams and more.

This film was made with generous assistance from the Canada Council for the Arts, the Ontario Arts Council and the Toronto Arts Council, and produced in association with The Breath Films.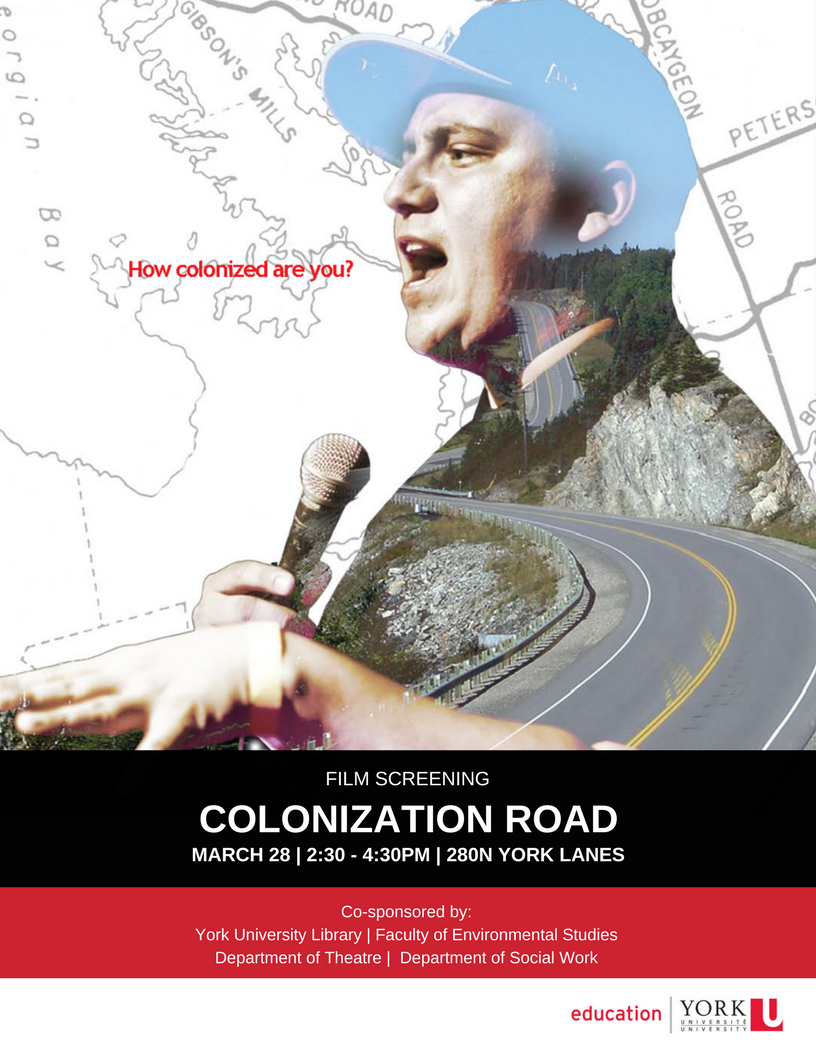 Mar

29

Wed

Thriving in the University: Why Higher Education Still Matters @ Founders Assembly Hall (152 Founders College)

Mar 29 @ 6:00 pm – 8:00 pm
Join us for a Public Lecture by Dr. Les Back (Goldsmiths, University of London)
Professor, sociologist, and author of Academic Diary: Why Higher Education Still Matters, Dr. Les Back from Goldsmiths, University of London will give a public lecture about the importance of higher education in today's world. Then, inspired by Dr. Back's book, three individuals from across York University will each share an academic diary entry and their perspective on life in the university today.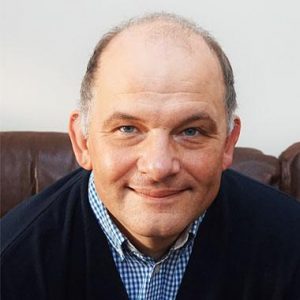 Dr. Les Back is a professor in the Sociology Department at Goldsmiths, University of London. His main areas of academic interest include the sociology of racism and ethnicity, popular culture and music, urban life, community, class, social theory and sociological methods. Dr. Back has written for the Guardian, Times Higher Educational Supplement, Opendemocracy, and Eurozine as well as published music writing for magazines and liner notes for CDs.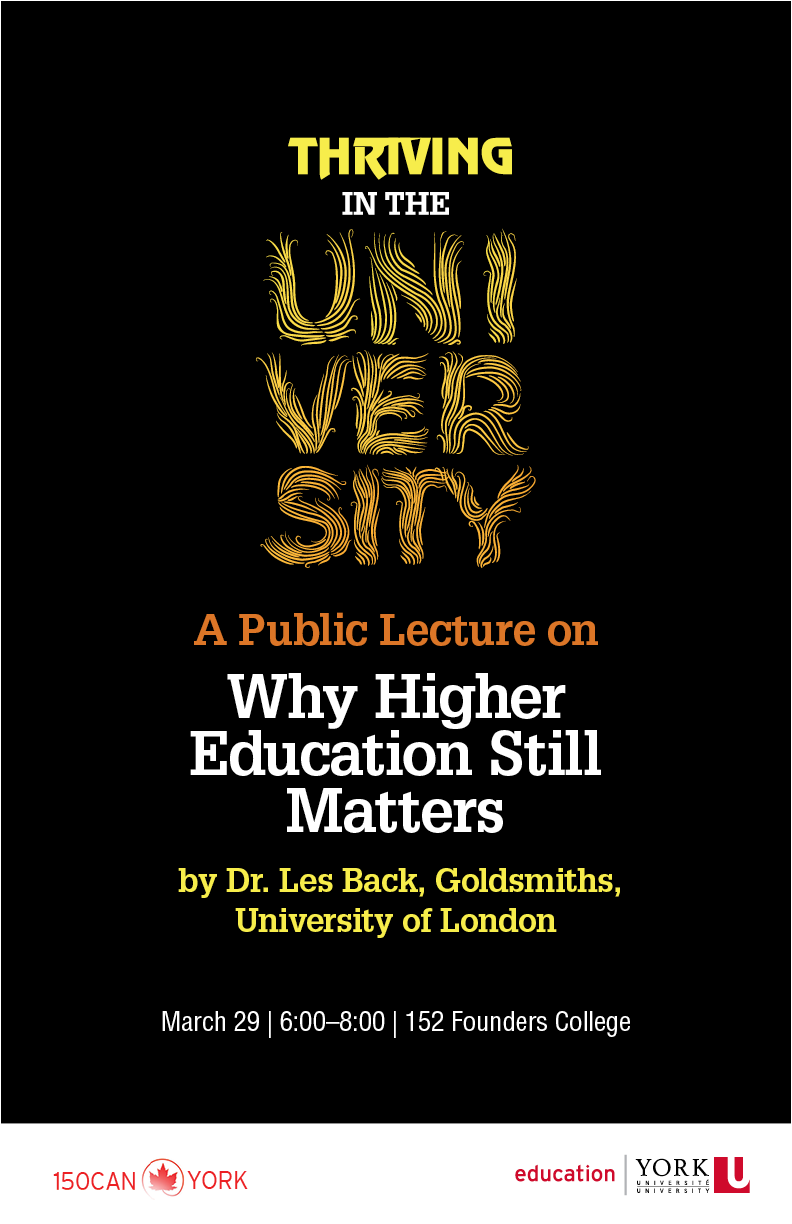 In recognition of Canada 150, York University's Faculty of Education will present the "Life in the University: Past, Present and Future" series to examine the role of higher e ...

A unique "Yearbook in Poetry" assignment proved to be an exercise in experiential learning for teacher candidates (TCs) in course director Lorin Schwarz's Teaching English in ...

First year Bachelor of Education (BEd) Technological Education student Sera Antheunis was one of 70 undergraduate students to present their research projects at York's fourth ...