News & Events
Feb

15

Mon

Winter Reading Week

Feb 15 – Feb 19 all-day

There are no classes during Reading Week, but the University remains open.

Feb

16

Tue

Building Futures Workshops @ Room 102 Accolade East Building (ACE)

Feb 16 @ 9:00 am – Feb 17 @ 3:30 pm

The Ministry of Education's Building Futures program will be hosting 2-days of workshops for York teacher candidates on February 16 (PJI) and February 17 (JIS).

The Building Futures program began in 2004 with the purpose of establishing support and guidance to new teachers about to embark on their teaching careers by providing them with relevant tools and practical ministry resources.

The annual program is part of the first step in a continuum of professional learning and growth for teacher candidates as educators. The Ministry of Education recognizes how critical it is to the success of a new teacher to be familiar with the key goals, programs and priorities of Ontario's education system.

Teacher Candidates beginning their program will be able to take advantage of interactive learning with:
- Online tools and resources available 24/7 to support professional growth
- Webinars, voicecasts, e-books, tip sheets, videos, and e-modules to support learning

Teacher Candidates graduating in 2016 will be able to attend practical workshops with:
- Face-to-face learning and interactive panel discussions
- Certificate of participation upon completion

Feb

17

Wed

Voices of Innovative Practitioners @ McClean Performance Studio (Accolade East Building)

Feb 17 @ 6:00 pm – 7:30 pm

All I's on Education is pleased to present Voices of Innovative Practitioners, an intimate sharing of teacher stories celebrating research into innovative teaching practices in math, science and the arts in 10 Ontario schools.

The All I's on Education project is developed through the Council of Ontario Directors of Education and funded by the Ontario Ministry of Education.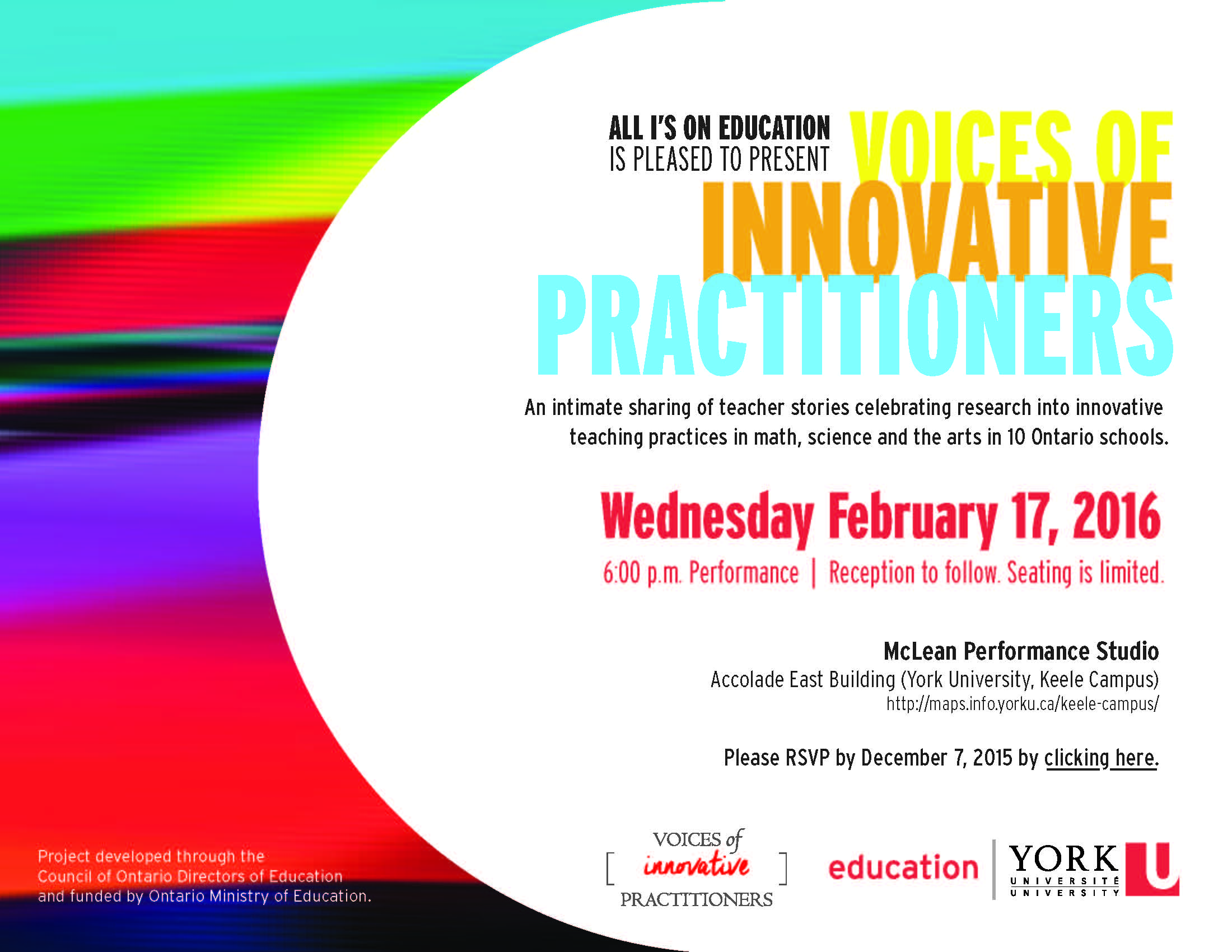 How long have you been at York University? Well, there are two stages to this.  I moved from Calgary in 1983 to come to York for grad school, in the department of anthropology ...

Congratulations to Faculty of Education Professor Pam Millett and her colleagues who received a share of the $1.5 million Arctic Inspiration Prize awarded to teams for their k ...

Faculty of Education course directors Heather Bourrie and Marc Husband provided a few of their first year consecutive teacher candidates (TCs) with an invaluable professional ...