News & Events
Jan

17

Tue

Burnished Ornamentalism: Making Sense of History, Iconography and the Visual Cultural Practices of Postcolonial Elite Schools in Globalizing Circumstances @ Harry Crowe Room (109 Atkinson)

Jan 17 @ 1:30 pm – 3:30 pm
Lecture by Professor Cameron McCarthy
Professor McCarthy's talk, which is part of a 5-year, 9-country global ethnographic study of postcolonial elite schools will address the management and conservation of institutional histories in new times, specifically what he describes as "burnished ornamentalism," in three research sites: Barbados, India and Singapore respectively. Dr. McCarthy will offer vignettes that illustrate new circumstances for postcolonial elite schools as they respond to global forces and will discuss the changing contexts that heighten the importance of these schools' investment in the burnishing of image and iconography in a burgeoning transnational educational market.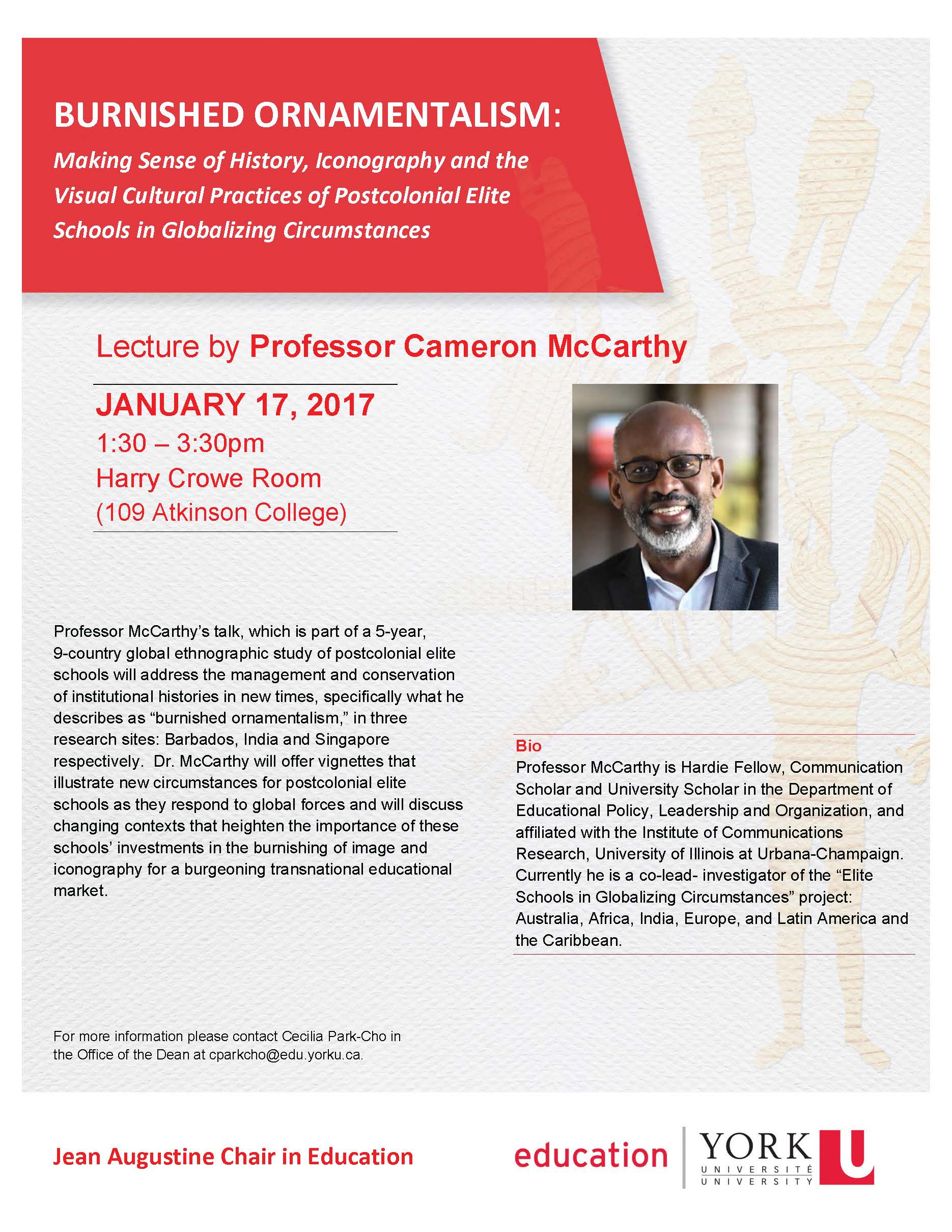 Jan

18

Wed

lxawéelŭmeew - An Indigenous Education Speaker Series @ 519 Kaneff Tower

Jan 18 @ 12:00 pm – 2:00 pm
Indigenous World Views: Engaging with Indigenous Art and Artists

Featuring:
Susan Dion and Jennifer Wemigwans (York University)
Tanya Senk (TDSB Aboriginal Education Centre)

Contemporary Aboriginal artists in Canada and around the world are continually
interpreting, portraying, and recasting Indigenous histories and knowledge teachings.
Through their art they pass on ancestral stories depicting the knowledge gathered along
pathways of family bloodlines, community histories, and across generations. These
stories are not fixed in the past, but are told in the present, being continually
regenerated, weaving their way in and out of our personal narratives. (Dion Fletcher,
2011, p.12)

Drawing on the work of Indigenous Artists including Christi Belcourt, Heather Igloliorte,
and Daphne Odjig this talk will focus on learning from and with the work of Indigenous
artists.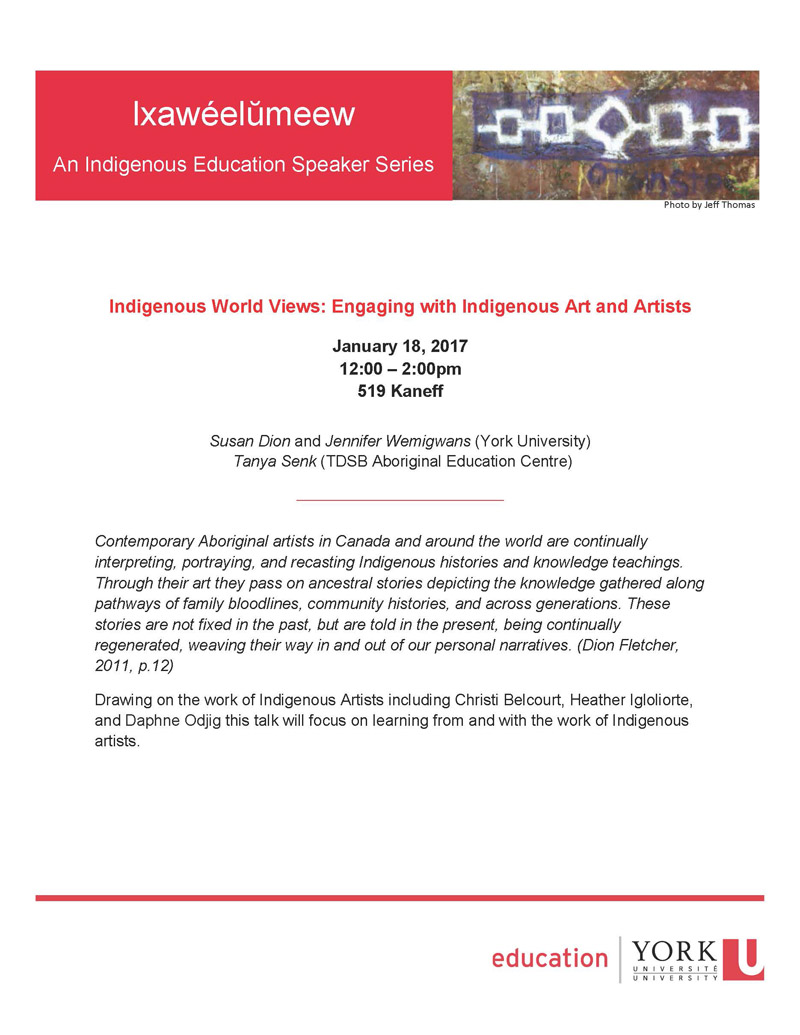 Jan

30

Mon

Making education in the classroom accessible and inclusive for students with disabilities @ Founders Assembly Hall (152 Founders College)

Jan 30 @ 12:00 pm – 2:00 pm
What Teachers Can Do to Transform Ontario's Education System
David Lepofsky is a part-time visiting professor at Osgoode Hall Law School and an adjunct member of the University of Toronto Faculty of Law. He holds three volunteer leadership roles in the disability community. He is chair of the Accessibility for Ontarians with Disabilities Act Alliance, a member of the Steering Committee and former co-chair of Barrier-Free Canada, and the chair of the Toronto District School Board's Special Education Advisory Committee.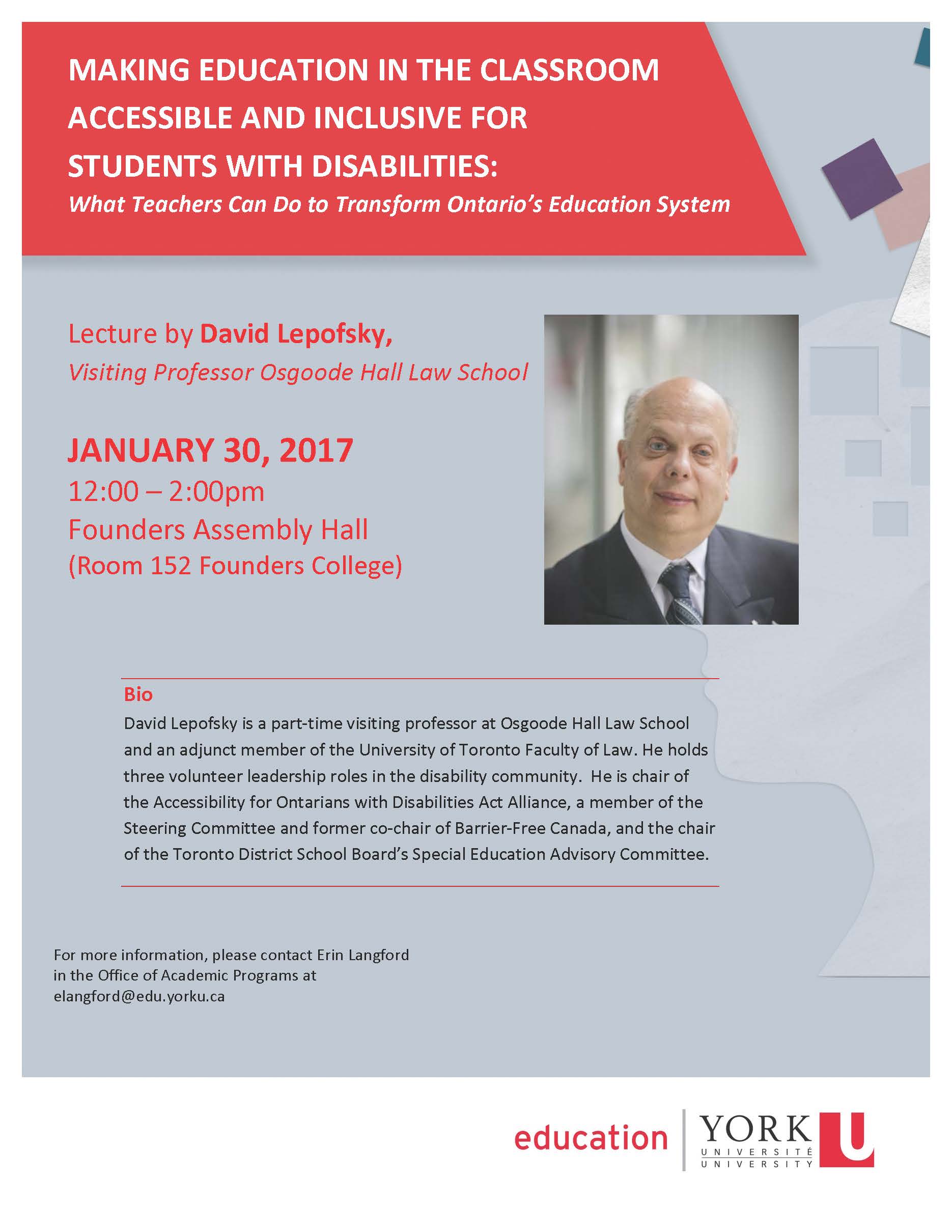 On Thursday, November 24, approximately 230 teacher candidates enrolled in the Faculty's Teaching for Diverse and Equitable Classrooms, Communities and Their Schools, and Urba ...

York's Faculty of Education in partnership with Education Involved Advocacy has been awarded a $5,000 Catalyst Grant from the York-TD Community Engagement Centre (CEC). The gr ...

The Canadian Observatory on Homelessness at York University, A Way Home Canada and the Home Depot Canada Foundation announced late last week the results of the first ever Nati ...