News & Events
Apr

28

Fri

'Indian' Residential Schools: Can Truth Lead To Reconciliation? @ The Collaboratory, 2nd Floor of Scott Library

Apr 28 @ 10:00 am – 2:30 pm

York scholars Bonita Lawrence and Celia Haig-Brown will speak on the history and legacy of "Indian" residential schools in Canada.
Morning talks and discussion: 10am to 12pm. Tunchai Redvers, a member of the Denınu K'ue First Nations and co-founder of We Matter, will speak on young people's role in truth seeking and reconciliation.
Afternoon talk and discussion: 1:45 to 2:30pm.
The event is free and all are welcome.

Jun

2

Fri

Research and Teaching Celebration 2016/2017 @ TBD

Jun 2 @ 1:30 pm – 3:30 pm

Please join us on Friday, June 2, 2017 at 1:30 PM for the Faculty of Education's Research and Teaching Celebration! Come hear colleagues and students speak about their research and teaching, peruse recent publications, and celebrate winners of the Dean's Research Impact Award, the Faculty's Undergraduate Teaching Award, the Faculty of Graduate Studies' Teaching Award, and the President's Teaching Award.

Hope to see you there!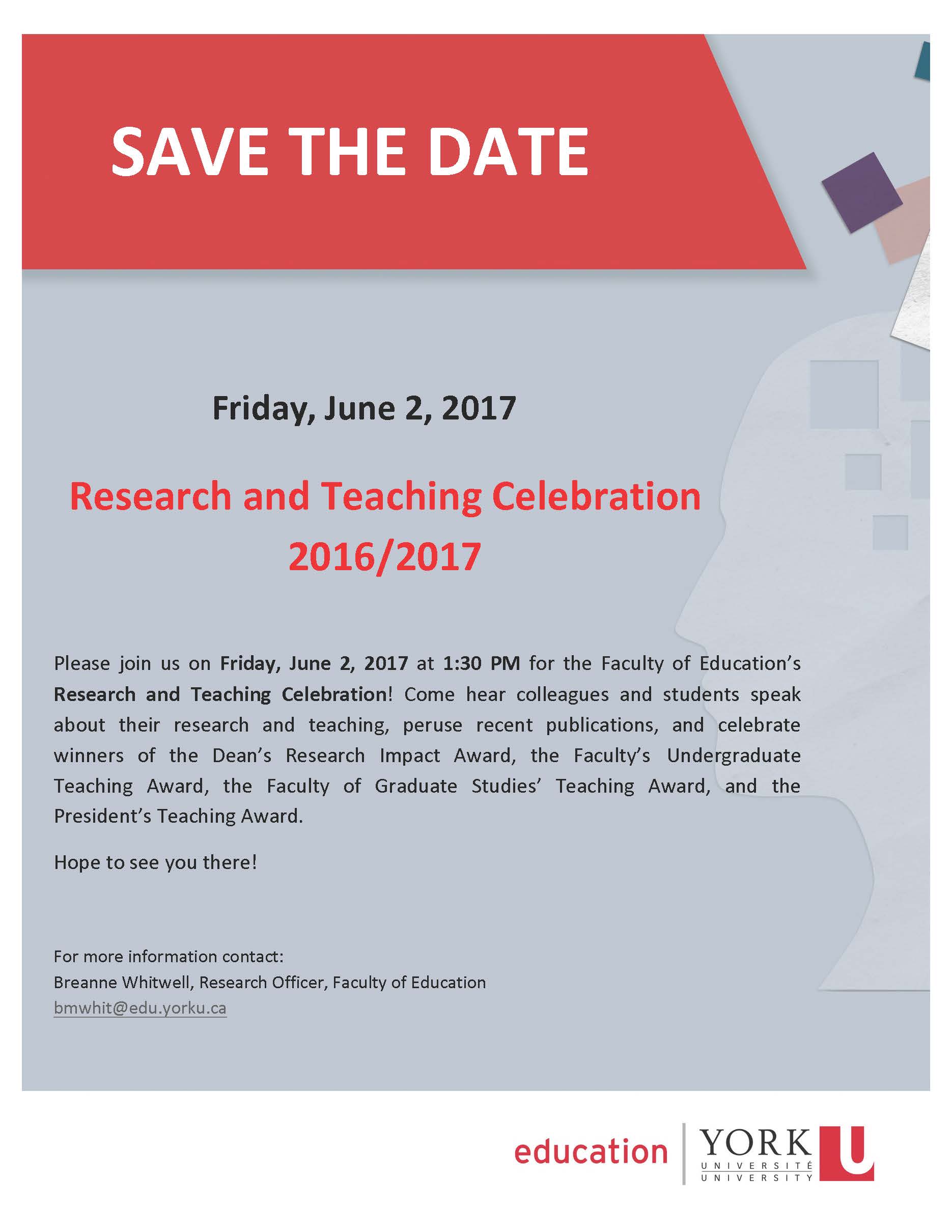 This past March, over 600 French as a Second Language and International Languages teachers from across Ontario gathered at the International Plaza Hotel in Toronto for the 201 ...

Second year Master's (MEd) student Wendy Moffatt's research interests focus on the issues faced by first generation Caribbean-descent students as they try to access post-secon ...

'Visions, Collaborations, & Transformations' the First Annual York University Graduate Student Research Conference in the Social Sciences & Humanities took place at Yo ...